Michelle Gielan
Positive Communication Expert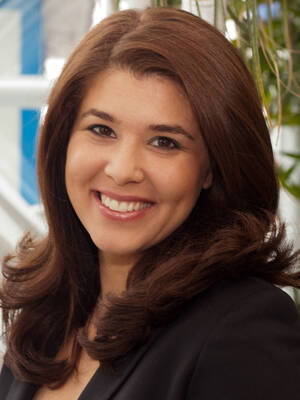 Michelle Gielan Text Reviews
Michelle captivated a room of CEOs, presidents and leaders with her research, her stories and her powerful delivery. The leaders in the room left the presentation forever changed.
YPO Gulf States
Michelle's message made a lasting impression, and we are already seeing the results. Our Americas HR organization is definitely Broadcasting Happiness - we are inspired!
Marriott
Michelle Gielan is one of the brightest stars in positive psychology and an eloquent champion for rethinking the way we communicate--at work, in our lives, and especially in the media.
Arianna Huffington
One of our best speakers ever. Michelle Gielan had us at hello with her infectious smile and energetic personality. But it was the practical ways we can put the research and ideas she shared into practice that had everyone buzzing. Some attendees said they were skeptical at first 'here's another think positive speaker,' but left very impressed and motivated by Michelle's message.
Mighty Auto Parts
When Michelle presents on stage, she makes you feel like you've known her for years. She immediately engages the audience with stories, research, and exercises that make her talks a must-see from the start. I've had the honor of booking some of the world's best speakers for our annual conference, and Michelle Gielan is in that class. If you're looking for a dynamic speaker to lift up your leaders and give them practices to help them for years to come, put Michelle on your list!
Workhuman
Michelle Gielan's buoyant, poignant, and uplifting message was the cornerstone of our entire three-day event. Because of the power and eloquence of Michelle's message, we specifically crafted our attendee experience and engagement strategy to align and underscore the influence of positive communication and "Broadcasting Happiness." Michelle's warm, inclusive, and elegantly polished delivery brought our group of 200 into her enchanting inner circle. Our group includes data geeks, research nerds, and senior business executives a diverse group that expects that theory is backed by proof. Before Michelle's presentation, some were concerned that her message could have been considered subjective, or potentially even emotionally squishy. Well, the doubters weren't doubters for long - Michelle and her message not only resonated, but also transformed our audience to adopt the challenge of radiating happiness. Including Michelle Gielan in an event is to ensure happier, more productive, more successful outcomes for your group.
The Incentive Research Foundation
"Michelle exceeded expectations and really reinforced the message we wanted to deliver to our attendees. This aided greatly in achieving our goal of setting the tone for a positive convention where minds were open to learning new ideas and attendees left inspired to accomplish more with their businesses."
United Real Estate
"Michelle was more incredible and down to earth than I could have even expected! I believe she connected well with our multiple audiences and made her content approachable for all roles of our organization. We took the 21 Day Challenge in an email campaign and our open rate was twice the industry average AND our click through rate to her tools was nearly THREE times the industry average! On the discussion day, we talked about how easily the tools could be incorporated into work and family life, particularly the Zorro Circle. We also talked about how much difference the Power Lead has made! Many folks are using a Power Lead who did not attend our event. That piece has gone viral and become a part of our fabric! Michelle Gielan truly made an impact on our organization!"
VCU Health System