Lee Ellis
Founder and President of Leadership Freedom LLC and FreedomStar Media / Air Force figher pilot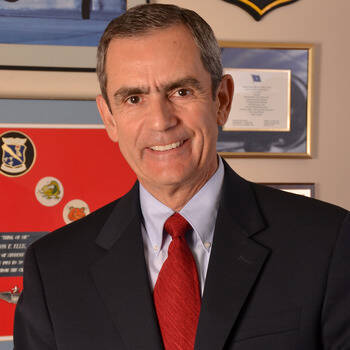 Lee Ellis Text Reviews
Through his experience we learn how to adapt, survive, persevere and have courage in the face of adversity. Col. Lee's story inspired attendees and equipped them with a new paradigm on dealing with challenges.
Michelle Bartolone, CMP, CEO - MEETING SITES PRO, INC. / GLOBAL MEETINGS GROUP
Lee is an inspirational speaker who reminds us all of the cost of our freedom and what courage and service is all about. He was a highlight at our conference and we will use him again with still larger audiences.
Kenneth Daly, President & CEO - National Association of Corporate Directors
Lee Ellis spoke to our HFMA-SC Chapter last October in Greenville, SC at our Fall institute. He was so well received, and I know the audience was attentive to every word he spoke! He presented his book, Leading with Honor, to me as Chapter President.
Ronnie Hyatt, Sr Vice President-Finance/CFO - Bon Secours St. Francis Health System
. . . a chance to read authentic leadership examples from real life. That is what Lee Ellis has provided through "Leading with Honor." . . . an inside glimpse at what makes true leaders great-- selfless servanthood based on integrity and discipline.
Arlin Sorenson, CEO of Heartland Technology Solutions - Heartland Technology Groups
Col. Lee Ellis spoke to our board of directors and guests. He was right on target for the audience, and there were long lines to buy his book afterwards. He did an excellent job, and we highly recommend him.
Dan Wheeler, National Adjutant - American Legion
You added positive value to the reputation of our organization, & your message is an excellent melding of actual events and principles that can be applied to leading a business. . . . You spoke from the heart w/ knowledge and conviction. You were superb.
Dan Davies, Executive Director - National Association of Chief Executive Officers
He has helped us 'lean into the pain' and provide clarity as we face our mission head on. His presentation was masterfully done and left a permanent positive impression on those that attended.
Jeffrey J. Lyash, Executive Vice President - Energy Supply, Duke Energy
His engaging speaking ability, exemplary leadership experience and lessons detailed in his book, Leading with Honor, are inspirational and impactful.
Tom Beaty, President and CEO - InSight Sourcing Group
His ability to take the horrific tale of his imprisonment during the Vietnam War and transform it into invaluable lessons in leadership is nothing less than remarkable and inspiring.
Christopher A. R. Brice, Chief Marketing Officer - Northwestern Mutual - Louisville
The remarks I heard from people who attended our CPCU Society event were over-the-top favorable of your speech, and that you were the best speaker in 10 years. I share those views.
Harold A. Weston, JD, CPCU, RPLU, ARM // Clinical Assistant Professor of Risk Management and Insurance, Undergraduate RMI Program Advisor - Georgia State University
The recounting of your experiences as a POW provided a current day reminder of the sacrifice, courage, and loyalty demonstrated every single day by those who protect us, our freedom, and the freedom of others all around the world.
Roy Bowen, President - Georgia Association of Manufacturers
Lee's dynamic speaking engagements teach the understanding of integrity, character, & the meaning of selflessness. By drawing from his personal experiences, Lee is able to develop a successful model of character building that is beneficial to any company.
Chantel Dunham, Director of Development, UGA Libraries, UGA Press, and The Georgia Review - University of Georgia
Lee Ellis' matter-of-fact and sometimes humorous style provided clear examples and illustrations in the lessons of honor as a basis for making major corporate decisions. These lessons also carry over to everyday choices.
Mackie Horton, President - UNC Kenan-Flagler Business School Atlanta Alumni Club
As Col Ellis teaches, he allows the audience sagacious glimpses into his life as a prisoner of war. . . . Col Ellis erupts like a an oil mine gracefully spewing his insightful leadership prowess.
Amy Laree Schmid, Contractor, Yellow Ribbon Program Event Coordinator, Military Personnel Services Corporation - Oregon Air National Guard
While many have given me tools to use, not many have struck me personally as you did. Your message made me reflect even deeper than normal, and I hope to become a better leader because of that.
Thomas N. Culpepper, Chief of Police - Cartersville GA Police Department
We learned a lot about ourselves as well as our peers. It was encouraging to see that even though we were such a diverse group that we all had common strengths and struggles.
Heather Tow, Director of Marketing and Patient Education - Home Medical Professionals
Everyone here was extremely impressed with Col Ellis and several stated that it was by far the best speaker that we have had on campus since we started the [Character Development] program!
LTC Anthony E. Fritchle, Executive Assistant to the President & Director for Planning - Riverside Military Academy
I heard nothing but great comments--it was wonderful. The passion he brings is critically important for American business leadership. His move into entrepreneurial business after his military service is an inspiration.
Joyce Hrinya, Managing Partner - A&R Strategy Partners, LLC
They were engaged and almost mesmerized by his story. Lee's delivery style was excellent. He spoke from the heart, mixed in the occasional joke or one liner to keep the audience loose, and was given a standing ovation when finished.
Jim Murphy, Vice President - Eastern Region - Matrix Professional Services
Lee recently spoke to a group of 150 senior business leaders and was terrific in relating his experiences in facing adversity and stress as a prisoner of war in Vietnam to the challenges facing leaders today across virtually all industries and sectors.
Thomas J Fuller, Managing Partner - Epsen Fuller Group
. . . Lee's presentation was exceptional. We had a very high turnout for the event, both in person and through video conference, and the feedback from the event was very positive. Everyone who approached me had many great experiences to take away
Dennis W. Lahmann, Research & Engineering Team Leader, Design & Drafting Services, - Kimberly-Clark Corporation
The POW story was very interesting and powerful. It made people very appreciative of Lee's service to our country. Most importantly Lee took that POW experience & applied it to everyday job leadership principles that people could take away & apply today.
Darwin Hollingsworth, SNC IT Group Manager - Southern Company Services
Every American, especially the younger generation, needs to hear Colonel Ellis' inspiring message, which reaffirms that freedom is not without sacrifice.
Jerry C. Davis, President - College of the Ozarks