Premiere Exclusive
HK Derryberry & Jim Bradford
HK Derryberry: The Boy Who Remembers Everything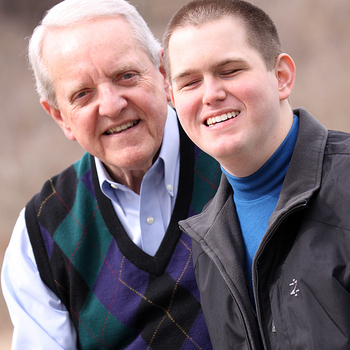 HK Derryberry & Jim Bradford Bio
According to medical science, HK Derryberry should never have survived. Born July 8, 1990 in Nashville, Tennessee, this two-pound baby boy arrived three months premature due to a single-car crash that took his mother's life. Because of the accident and his premature birth, he was born blind, with cerebral palsy and countless other medical problems.
Raised by his grandmother when his father abandoned him at age five, HK's life was forever changed in 1999 when he unexpectedly met Jim Bradford, a local business executive who was married and had two grown daughters. HK and Jim became inseparable, and eventually Jim's family welcomed him into their lives like an adopted son. Jim's personal mentoring and constant interaction exposed HK to a world he had never experienced. After he began exhibiting noticeable evidence of an incredible memory, Vanderbilt University researchers discovered that he was among a handful of people in the world with Highly Superior Autobiographical Memory (HSAM). HK has nearly total recall of every detail and minute of his life since he was 3 years old.
Today, HK and Jim's inspirational message captivates and inspires audiences everywhere. They have appeared over fifty times before more than 12,000 people since 2011. Their mixture of humor, coupled with an amazing true story and HK's triumph over insurmountable odds, is an emotional rollercoaster for every listener. His life is constant reminder that you can accomplish anything you desire by keeping a positive attitude, defining your personal goals, having fun, working hard, and never giving up. His audience takeaway is: "the only disability any of us have in life is a negative attitude".