Kerri Pomarolli
Actress, Comedienne, Author & Speaker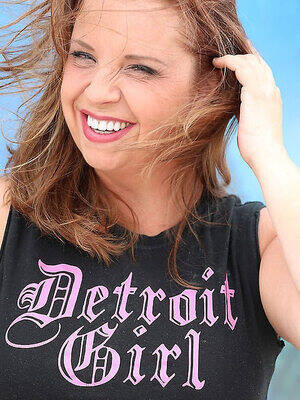 Kerri Pomarolli Bio
Kerri Pomarolli grew up performing from a young age and got her B.F.A. in Musical theater from University of Michigan. She also attended Stella Adler Conservatory in NYC and British American Drama Academy in London.
She moved to LA and had roles on soaps such as Port Charles, General Hospital, Young and the Restless and a few parts in movies and sitcoms. Kerri Pomarolli was attracting big hitters in the industry. She started stand up comedy 17 yrs ago and never looked back.
Recently she was voted one of LA's Most Inspiring People by LA Voyage Magazine.
Kerri Pomarolli is a national headlining stand up comedian who has worked with everyone from Jay Leno, Jim Carey, Sherri Shepherd, Carol Channing and Jerry Lewis and The Jonas Brothers and Candace Cameron Bure. She's been featured on The Tonight Show 29 times, Comedy Central, Netflix, ABC and many more. She hosted her own show on MOMTV and is a popular host on red carpets including backstage at the Emmy® Awards and many Hollywood premieres (Moms Night Out film). Her book came out with the hit movie Mom's Night Out starring Sean Astin. She was featured on the Nick at Nite show Mom's Night Out and as an actor has appeared in many films and TV including General Hospital, Young and the Restless, Lifetime, ABC Family, CBS and many more.
She is a screenwriter who sold her second film script to the Hallmark Channel. Kerri has been a correspondent for CNN's showbiz night as an "out of the closet" Christian in Hollywood. Kerri has appeared on just about every major network and has a featured act at LA's Hottest Comedy Clubs. Kari Jobe, Lysa Turkherst and many more.
She has been a part of many mega tours including Aspire Women, Extraordinary Women GATEWAY Pink and others.
She's been on tour with Family Life Today, to sold out crowds of over 16,000. Kerri has been a favorite corporate entertainer for major companies such as Ford Motor, Food Network, Cisco Systems and many others. She is not only a gifted comic, but a population speaker as well. She was on the cover of National Speakers Magazine.
She is currently featured on the Roku channel and Netflix and Amazon Prime.
She has a podcast with her teen daughter Lucy, called The Carpool Comedy Podcast.
She is a nationally syndicated columnist for several magazines.
She has a new 1 hr Dry Bar Comedy Special. She has been a writer and performer for The Babylon Bee.
Her latest 1 hour comedy special is out now and on Spotify Amazon and Sirius Radio.
Kerri's latest two books Confessions of a Proverbs 32 Woman and She Rises Late and Her Kids Make Her Breakfast: Devotions for the Proverbs 32 Woman hit the bestsellers list on Amazon.
She hosted the new show Chocolate World for Hershey Corp and enjoys working as an MC for events and red carpets. She even hosted part of the Dove awards at the Grand Ole Opry with Kirk Franklin and Casting Crowns.
She was awarded Comedian of the year 2022 at the Hollywood Red Letter Awards.
She hosted the Women's Songwriter Hall of Fame Awards 2023 in Washington D.C.
She lives in CA with her two daughters. Fans from 8 to 80 will relate to her comedy and fresh ministry of the gospel.