Peter Ricchiuti
A Funny Economist Delivering Real Insight in Troubled Times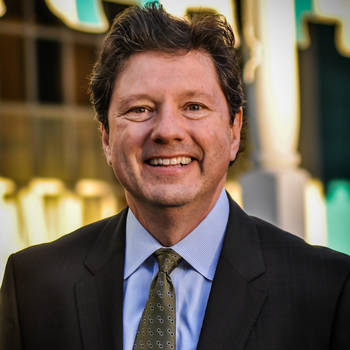 Peter Ricchiuti Bio
PETER RICCHIUTI
Business Professor, Raconteur, and One Great Public Speaker
Peter Ricchiuti (Ri-Chooty) is the business professor you wish you had
back in college. His humor and insight have twice made him the top
professor at Tulane University's Freeman School of Business. In a recent
competition, Peter's teaching delivery skills placed atop a field of 500
universities representing 43 countries.
Peter is a graduate of Babson College, started his career at the
investment firm of Kidder Peabody & Co and later served as the assistant
state treasurer for Louisiana. There he successfully managed the State's
$3 billion investment portfolio.
In 1993 he founded Tulane's nationally acclaimed Burkenroad Reports
student stock research program (www.burkenroad.org). Here he leads 200
business students in search of overlooked and underpriced stocks in six
southern states. He and his program have been featured widely in the
financial press including; The Wall Street Journal, BARRON's and The
New York Times.
In 2014 The Financial Times published Peter's first book, Stocks Under
Rocks and he currently hosts a popular weekly business program called
Out To Lunch on National Public Radio in New Orleans.
He served as a director of Amedisys, Inc. (AMED/NASDAQ), the nation's
largest home healthcare company (1997-2015). During this period the
stock rose by about 1000%.
Peter has addressed over 1000 groups in 47 states. These include groups
of nuns, tin can manufacturers, money managers, waterpark owners,
insurance professionals and NFL players. He has even done a couple of
TED TALKS.