Premiere Exclusive
Nicholas Ferroni
Award Winning Educator and Activist, "Kids who are loved at home come to school to learn, but kids who aren't, come to school to be loved"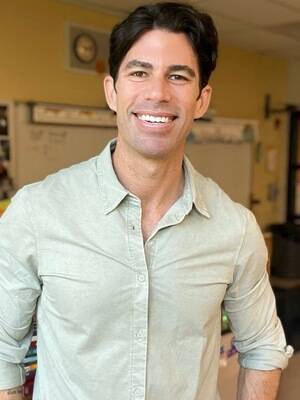 Premiere Exclusive
Nicholas Ferroni
Award Winning Educator and Activist, "Kids who are loved at home come to school to learn, but kids who aren't, come to school to be loved"
Travels From
Union, New Jersey
About Nicholas Ferroni
Nicholas Ferroni is a high school teacher and nationally recognized social activist who educates, mentors and inspires students to reach their goals while driving a national dialogue about education.
Nick was named "Upstander of the Year" by the HRC (Human Rights Campaign) for his outspoken advocacy and support for LGBTQ youth, Nick was also noted as one of the "100 Making a Difference," one of the "Most Influential Educators In America," and honored by The ...
We have used Nick for a number of speaking engagements here at Spotify, with particular focus on how, through the use of music, he's able to educate and empower the people around him. Nick is not only an expert in his field, he is a great speaker and a pleasure to work with
Aaron Page, Marketing Manager - Spotify UK
I had the good fortune of hearing Nick speak in New Jersey. What an incredible experience it was. I walked away thinking this guy gets it. Nick's powerful words, relevant examples, and heart warming stories inspired me and gave me hope that teachers everywhere are still the change our kids deserve.
Jimmy Casas, Senior Fellow - International Center for Leadership In Education
Our day with Nick went perfectly. Our staff loved him and walked away feeling motivated and energized. He was outstanding.
Scott Clay - Superintendent - East Maine School District 63
We had an AMAZING day with Nick yesterday. He truly delivered outstanding presentations which included topics that matched the needs of our district. Throughout the afternoon, staff approached me to say how much his words inspired them. Thank you so much for working with us to bring Nick into our educational community. I hope to work with you again in the future.
Paula Beck - Nelson School
Nick's presentation was the perfect kickoff to our school year. His insight into the art of teaching, his dedication to social justice, and his sense of humor kept us captivated throughout his time with us. Nick brought a level of energy that was contagious.
Scott Clay - Superintendent - East Maine School District 63
It was the kick off that all of us needed to have a great beginning of school. I 100% would recommend Nicholas Ferroni to any group or district that wants to hear a powerful message about building student relationships. I heard a retired teacher who got back into the professional tell Nie "This is the best presentation I have heard in all my years of teaching" 35+ years and it was the best. Nic's message is so vital today. It doesn't matter what we know until the kids know we care.
Jason L. Midkiff, Superintendent - Purcell Public Schools
14 speaker reviews for Nicholas Ferroni View All