Kerry Schrader & Ashlee Ammons
Founders of Mixtroz and Award Winning Entrepreneurs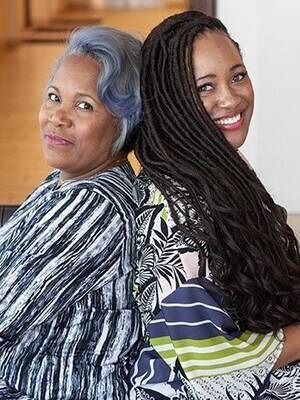 Kerry Schrader & Ashlee Ammons Text Reviews
Kerry and Ashlee are changing the way people see women innovators and entrepreneurs. They are thought leaders in our community (Nashville) and it's an honor to have them speak and mentor young girls every year at our Girls To The Moon events.
Courtenay Rogers, Co-Founder - Girls To The Moon
Engaging, energizing, and exciting - Ashlee's presentation (complemented by her witty and talented partner, Kerry) kept our students entertained and interested (no small feat) throughout her talk. She shared candidly about the 'real life' of a start-up founder and provided valuable and actionable advice to budding entrepreneurs in particular, but general lessons to all heading into the workforce soon. No reading assignment, case study, or class discussion can have the same effect as listening to Ashlee and Kerry tell their story!
Dorottya Pap, Scheller College of Business - Georgia Tech
I've been thinking about your (Approach Anything Like It's Everything) talk ever since you presented and have been trying to decide how I'll approach anything like it's everything! That has stuck with me.
Mariah Cole J.D., VP - ULYPMT
Kerry Schrader and Ashlee Ammons are smart, warm and engaging and that's what they have fostered in their presentations. These two executives have taken their experiences in HR and PR and used it to create technology that puts human exchange back in the networking experience. Brilliant!
Jamie Dunham, President - Brand Wise
Kerry and Ashlee are the perfect team to inspire people to pursue their dreams. Not only are their professional backgrounds tailor-made for an audience, but their personalities make their speaking success a virtual certainty. Kerry and Ashlee are keenly aware of all the elements necessary to make an event memorable and impactful.
Jimmie B. Strong, Attorney - Baker Donelson
I heard Ashlee and Kerry speak, they told their story of how Mixtroz was created and I am inspired. They are a couple of very smart, savvy women.
Helen Gaye Brewster
Ashlee and Kerry are going to do AMAZING things; their enthusiasm is contagious and inspiring!
Laura Kovach
I enjoyed the speakers knowledge and delivery. I also enjoyed the breakout session and being able to interact with other conference goers. Full of engagement and communication with people we did not know upon entering the room as well as additional information.
HR: Old School Tactics + New School Technology
Thank you for your presentation. Very Inspiring!
S.H., Owner - The Tangible Effect
You inspired a lot of our girls and other students that feel a bit discouraged by Computer Science and the Tech Industry. I've been trying to change the stereotype of our Computer Science classes away from the all-white boys club it's been in the past. I really feel that you made a positive impact in that regard.
R.J., Computer Science Teacher - The Altamont School
Her drive and determination is motivating and inspiring for everyone. Each person in the audience felt like they were walking on the journey with Ashlee.
K.L., Owner - Forge
What an amazing presentation you delivered yesterday! It was a true treat for the students and teachers. Your talking points are spot-on and in keeping with the leadership tenants of The Miree Center. Moreover, your rapport with kids is incredible!
K.S.B., Director - The C. Kyser Miree Ethical Leadership Center, The Altamont School
Dear Ms.Ammons, Thank you so much for taking the time to talk to me after your presentation about some of the basics of starting your own company. You gave me both insight and inspiration for lies ahead in my own journey. I wish you the best of luck in all of your business ventures and if I have any more questions I may contact you again. Once again thank you! Keep bringing such a positive and refreshing attitude to the seemingly tough world of business!
J - Wild Blue