Kerry Schrader & Ashlee Ammons
Founders of Mixtroz and Award Winning Entrepreneurs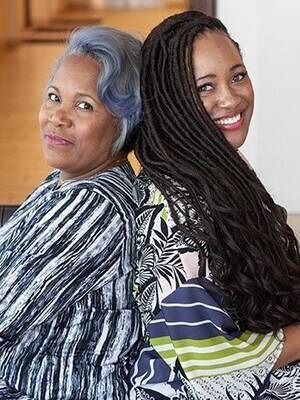 Kerry Schrader & Ashlee Ammons Videos View All
Kerry Schrader & Ashlee Ammons
Founders of Mixtroz and Award Winning Entrepreneurs
Travels From
Birmingham , AL
About Kerry Schrader & Ashlee Ammons
Named to Entrepreneur Magazine's inaugural list of "100 Powerful Women" in 2019; Kerry Schrader and Ashlee Ammons are a dynamic Mother/Daughter duo in the new wave of entrepreneurs creating services to make work and play simpler and more satisfying. Without formal tech backgrounds, they've blazed trails in the male-dominated tech startup space with their company Mixtroz, which increases engagement and collects data at gatherings.
Following remarkable progress in 2017, Team Mixtroz kicked off 2018 by ...
Kerry and Ashlee are changing the way people see women innovators and entrepreneurs. They are thought leaders in our community (Nashville) and it's an honor to have them speak and mentor young girls every year at our Girls To The Moon events.
Courtenay Rogers, Co-Founder - Girls To The Moon
Engaging, energizing, and exciting - Ashlee's presentation (complemented by her witty and talented partner, Kerry) kept our students entertained and interested (no small feat) throughout her talk. She shared candidly about the 'real life' of a start-up founder and provided valuable and actionable advice to budding entrepreneurs in particular, but general lessons to all heading into the workforce soon. No reading assignment, case study, or class discussion can have the same effect as listening to Ashlee and Kerry tell their story!
Dorottya Pap, Scheller College of Business - Georgia Tech
I've been thinking about your (Approach Anything Like It's Everything) talk ever since you presented and have been trying to decide how I'll approach anything like it's everything! That has stuck with me.
Mariah Cole J.D., VP - ULYPMT
Kerry Schrader and Ashlee Ammons are smart, warm and engaging and that's what they have fostered in their presentations. These two executives have taken their experiences in HR and PR and used it to create technology that puts human exchange back in the networking experience. Brilliant!
Jamie Dunham, President - Brand Wise
Kerry and Ashlee are the perfect team to inspire people to pursue their dreams. Not only are their professional backgrounds tailor-made for an audience, but their personalities make their speaking success a virtual certainty. Kerry and Ashlee are keenly aware of all the elements necessary to make an event memorable and impactful.
Jimmie B. Strong, Attorney - Baker Donelson
I heard Ashlee and Kerry speak, they told their story of how Mixtroz was created and I am inspired. They are a couple of very smart, savvy women.
Helen Gaye Brewster
13 speaker reviews for Kerry Schrader & Ashlee Ammons View All