Kerry Schrader & Ashlee Ammons
Founders of Mixtroz and Award Winning Entrepreneurs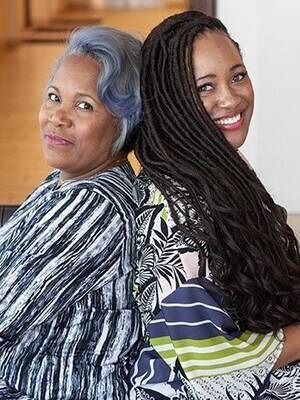 Kerry Schrader & Ashlee Ammons Bio
Named to Entrepreneur Magazine's inaugural list of "100 Powerful Women" in 2019; Kerry Schrader and Ashlee Ammons are a dynamic Mother/Daughter duo in the new wave of entrepreneurs creating services to make work and play simpler and more satisfying. Without formal tech backgrounds, they've blazed trails in the male-dominated tech startup space with their company Mixtroz, which increases engagement and collects data at gatherings.
Following remarkable progress in 2017, Team Mixtroz kicked off 2018 by joining Alabama's prestigious Velocity Accelerator and starring on an episode of A+E 's series "Rooster & Butch." In May 2018, the duo was selected to pitch to AOL Co-Founder Steve Case during the Rise of the Rest tour stop in Birmingham, AL and secured a $100,000 investment from Cases' Revolution Fund. The team went on to close a $1M round of funding, making them the 37th and 38th black females to ever close a $1M+ round of funding.
Kerry Schrader BBA, MBA, is the Cofounder/CEO of Mixtroz. She is the 37th Black Female to ever raise over $1M in pre-seed funding. Kerry has more than 25 years' experience positively impacting the human assets of large companies including Ford, Alcoa, and Sears Holdings Corporation. Mrs. Schrader has vast experience developing programs that engage work-forces with results that increased productivity and bottom-line profitability. Mrs. Schrader is a board member of Creative Startups, Birmingham's inaugural Mayor's Small Business Council, and UAB's O'Neal Comprehensive Cancer Center's Advisory Board. In addition, Mrs. Schrader is a proud member of Delta Sigma Theta Sorority. Most importantly, however, K E R R Y is a breast cancer survivor!
Ashlee Ammons holds a BA in Mass Communications and Public Relations from Baldwin Wallace University. She is the 38th Black Female to raise over $1M in pre-seed funding. Prior to Cofounding Mixtroz with her mother, Kerry Schrader, Ashlee established a career as an Events Producer working with an impressive list of A-listers including Oprah Winfrey, Leonardo DiCaprio, and Jay-Z, as well as legacy brands like Moet Hennessy and Coca-Cola. Ashlee serves on the boards of the Nashville Entrepreneur Center and Tech Birmingham, is a 2019 Birmingham Business Journal 40 Under 40 recipient as well as Birmingham 40 Under 40 of the decade and Business Journals National Rising Star. In addition, Ashlee is a proud member of Delta Zeta Sorority where she was named to their first-ever 35 Under 35 in 2018.