Michael McGrath
Diversity Specialist, disABILITY Champion, Polar Adventurer, Motivator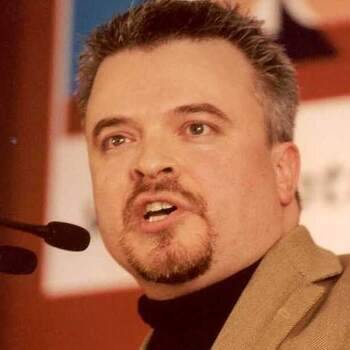 Michael McGrath Bio
- Only disabled person in the world to have reached both North and South Poles
- Sir Richard Branson, Chairman of the Virgin Group said "Michael is an inspiration"
- Recognised by HRH Queen Elizabeth II in Christmas Day Buckingham Palace TV broadcast
Michael's remarkable life story is one of consistently overcoming incredible odds. British born with a cocktail of Irish and Brazilian blood and educated by the Jesuits, Michael describes himself as the black sheep of his family, a catalyst for change and a champion of difference; most of his family are in medicine. Michael made history in January 2004 by becoming the only disabled person in the world to have reached both the North and South Poles ~ by any standards, an extraordinary example of determination, courage and singular achievement.
His father was a dental surgeon running one of the UK's largest dental practices, his uncle is a retired orthopaedic surgeon, his aunt worked with leading oncologists from around the world at the European School of Oncology in Milan, a brother who sits on the General Medical Council in Australasia and is an osteopathic physician in Dunedin, New Zealand and another brother who lectures in the Department of Oral and Dental Science at the University of Bristol in the UK.
Michael himself is first and foremost a father to his daughter and husband to his wife, who is also his business partner. At the age of 12yrs, Michael wanted to be a professional golfer. At 14yrs, he was invited to play at Junior Wimbledon. At 15yrs, he dreamt of becoming the General Manager of the Savoy Hotel in London. At 16yrs, he was a keen rugby player at Stonyhurst College (a flanker by trade!), an independent english Catholic boarding school founded in 1593 (guided by Jesuit principles), whose motto "Quant Je Puis" (As Much As I Can), central to McGrath's own Reach Beyond ethos. At 18yrs, he was diagnosed with muscular dystrophy, a muscle wasting disease that remains the single biggest genetic killer of children on the planet ~ in that moment, Michael's life changed forever. Today, his greatest power is his emotional force in connecting with people.
He is in demand as a sought after inspirational business speaker. He travels the world, provoking, stimulating and inspiring change whilst championing his 3M formula for success (based around the brain being a 'muscle', the body's ability to 'move' and the mind needing to be fuelled by 'motivation') for both private and public sector organisations. Clients have included Barclays, Roche Pharmaceuticals, Pfizer Pharmaceuticals, Lloyds TSB Women's Network, DHL Global, Hilton International, Credit Suisse, Shaw Trust, Capital Resourcing, Carillion Transport, the NHS, Shoosmiths, the Cabinet Office, Motorola, Remploy, Government Office for the South East, Morgan Stanley, various public sector organisations including County Councils, as well as many places of learning from Ashridge Business School (one of the world's leading business management colleges) to junior, secondary and special education needs (SEN) schools.
Managing his own consultancy practice, he works with organisations seeking to effectively measure diversity. A specialist adviser to the hospitality industry and a judge on the industries prestigious Cateys Awards, he focuses on leveraging the revenue opportunity offered by accessibility and inclusion. He is often invited to write for industry journals. Past clients include Hilton Hotels UK & Ireland, for whom he was the disABILITY Champion (a figurehead role) for four years.
When not speaking or consulting, he's raising vital funds and awareness to support The Muscular Help Foundation (www.musclehelp.com), a UK registered charity based near London that helps children and young people in the UK with muscular dystrophy via its Muscle Dreams programme, live a dream or fulfil a cherished ambition. He is the CEO and co-founder.
In January 2004, Michael returned from Antarctica, having successfully led his team to the South Pole. In doing so, he made history by becoming the only disabled person in the world to have reached both North and South Poles - he reached the North Pole in April 2002. Leadership, trust, a strong sense of self-belief, teamwork and absolute confidence were critical success factors.
Michael received support and endorsements from around the world including business entrepreneurs such as Sir Richard Branson, actors, media presenters, sports people and adventurers such as Kenneth Branagh, Lorraine Kelly of GMTV, Michael Palin, Chris Bonington, Jon Snow of Channel 4 News and Britain's best known Paralympic athlete, Tanni Grey Thompson as well as many worldwide government representatives including the Commissioner for Employment and Social Affairs at the European Commission in Brussels.
In recognising and valuing difference, Michael was included in The Queen's 2004 Christmas Day broadcast from Buckingham Palace that reinforced the importance of diversity as a strength and a year later, he received the prestigious 2005 Business Traveller of the Year Award presented to him by BBC Correspondent Kate Adie in Dubai. Michael has been invited to host the inaugural Able UK 2009 National Disability Awards.
In the words of Alexandra Shackleton, one of his expedition Patrons, Michael continually demonstrates, like her grandfather Sir Ernest Shackleton, the qualities of optimism, courage, imagination and patience - his polar achievements are extraordinary triumphs of physical and mental endurance, and should serve as a reminder to us all that, in Michael's own words, 'our limits are often far beyond where we may assume them to be'.
***
Michael McGrath speaks at conferences and events worldwide. He is available to host award ceremonies, support product launches, make appearances and deliver bespoke workshops that for example draw out key learning's from his own experiences and achievements, revealing how individuals and organisations can expand their performance potential.