David Nour
Enterprise Growth Strategist and Global Thought Leader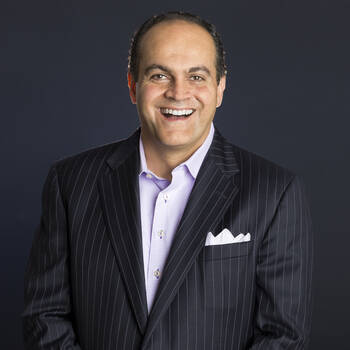 David Nour
Enterprise Growth Strategist and Global Thought Leader
About David Nour
Born to middle-class educators in Iran, David learned at a very young age the incredible power and promise of identifying, building, and nurturing strategic relationships. As he wrote in his first book, Relationship Economics - Transform Your Most Valuable Business Contacts Into Personal and Professional Success (Wiley, 2012), he certainty didn't get it then, but walking through the bazaars of Iran at a young age with his father on Friday errands, he understands now that his dad got things done ...
I've had the pleasure of hearing many great speakers during my 27 years with PMA. So it takes someone exceptional to cut through the clutter and make a unique impression. You did that and then some.
Bryan Silbermann, CAE - President & CEO - Produce Marketing Association
...I heard you speak at the ASAE Annual Meeting in Atlanta. I found you to be a gifted professional speaker and dramatically more insightful than most typical associated-related presenters. During our introductory lunch, you provided ample value in your understanding of our growth challenges and piqued my curiousity to seek your advisory services.
Stefano Bertuzzi, Ph.D, M.P.H. - Executive Director - American Society for Microbiology
During David's presentation, our audience of more than 700 elected officials and city staff members were extremely engaged, as evident by few distracted mobile users or anyone who left the session early! He used appropriate humor, was personable yet thought provoking in conveying his ideas. Needless to say, David's presentation was the buzz of the conference long after his session.
Michael Sittig - Executive Director - Florida League of Cities, Inc.
As a senior executive at an association I have heard and hired many speakers and not all have hit the mark each time. However, from the first time I engaged you on short notice through subsequent engagements following you have always hit the mark and exceeded my expectations and most importantly, those of the audiences you have addressed for us.
Duffy Wilbert, CAE - Former SVP of Member Services - InfoComm International
David, you deliver a message that applies to all audiences. It is so important in this time of uncertainty that people do value relationships. Thank you for being such a great influence and a wonderful speaker.
Brooke Sommers, CMP, CMM - Owner/Consultant - Strategic Conferences & Events LLC
Thank you so much for presenting at the 2011 Amerinet Member Conference in Orlando, Fl. The session was a huge hit and so well received.
As you know, social networking is relatively new to the healthcare field and most of our attendees came into your session knowing very little about how it can apply to them. At the end of the session and in follow up emails, I received more requests for your information than any other speaker-- and this is saying a lot, considering many of the other speakers were from the Disney Institute.
Kerry Price - Senior Vice President, Operations - Federation of American Hospitals
6 speaker reviews for David Nour View All