Dave Knox
Digital Innovation and Disruption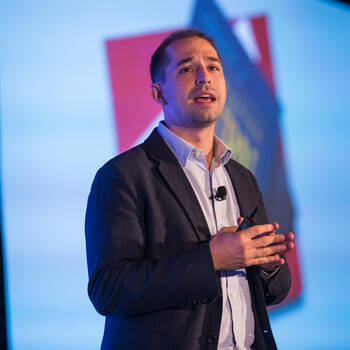 Dave Knox
Digital Innovation and Disruption
About Dave Knox
Dave Knox is an investor, startup advisor, and speaker in the areas of innovation, marketing, and digital transformation. Blending classical brand marketing acumen with entrepreneurial instinct, Dave is recognized throughout the industry as an innovator who bridges the worlds between brand marketing, digital, and entrepreneurship.
As Chief Marketing Officer of Rockfish, Dave helped the company become one of the fastest- growing agencies in the country, going from $8 million in 2010 to $70+ million ...
I had the privilege of using Dave Knox as an opening speaker and would echo what one of my attendees told me afterwards 'Dave Knox was the best opening keynote I have ever heard'. He energized the room and set the tone for the day!
Christine Franklin - Executive Director, PoC3
Dave Knox was a keynote speaker at SOCAP's Re-Imagine Customer Care Conference in Salt Lake City, Utah. Dave was very insightful and provided relevant, practical takeaways in his presentation. His grounding in industry, including knowledge of customer care issues, also resonated well with our event attendees. Overall, Dave was a great keynote speaker!
Marjorie Bynum, President & CEO, - SOCAP International
I've worked with Dave in several capacities on the conference circuit. He's been a trusted advisor, helping my team to shape event content and programming. Dave's unique experience - spanning brand at P&G, agency at Rockfish, and with entrepreneurs at the Brandery - positions him as a versatile and knowledgeable resource for conference creators and attendees alike. As a speaker, he is dynamic and engaging on both small and large stages. Book Dave for your next event, and I guarantee that you won't be disappointed.
Katharine Panessidi - VP, Content & Programming at Comexposium
Dave Knox challenged us to think differently about everything - exposing us to new start-ups, technologies, and engagement techniques. Most importantly, he encouraged us to NOT follow our own rules but TO follow the rules of our target audience if we want to be invited to play in their sandbox. Working with him is exciting, scary, but ALWAYS delivers the right results.
Heather Shultz - Vice President, Participant Marketing Fidelity Investments
This book is packed with current and relevant examples of how the game is changing between big companies and start-ups. It's a one day read because Dave's writing is so compelling, honest, and insight based. The lessons are clear, and so too is the overarching lesson that the competitive advantages are shifting, and winners must prioritize the speed in new business models.
Chris Foley , SVP/CMO - Pepperidge Farm
As a relocation management company that serves some of the world's biggest businesses, we see the positive workforce implications for those that can recognize and respond to industry changes. Dave's presentation delivered a powerful message that companies of all sizes can adapt and even capitalize on the technology and innovation in our rapidly evolving global economy.
Graebel
12 speaker reviews for Dave Knox View All