Lina AbuJamra
Found of Living With Power Ministries, Author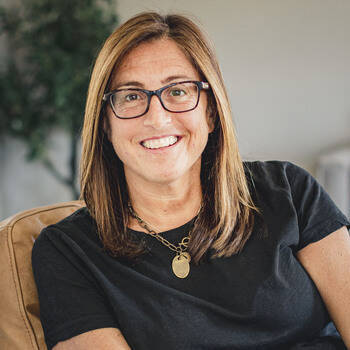 Lina AbuJamra Text Reviews
In a world that's constantly trying to draw us away from God, Lina points us to the Biblical truths we must cling to and believe above all else.
Lysa Terkeurst - President - Proverbs 31 Ministries & New York Times Best-Selling Author
Lina is passionate, cares about connecting with the women she is teaching and is an easy guest to host. Her passionate approach to teaching the scriptures is captivating and energizing leaving her audience well informed with lots of application points to ponder. She's personable, relatable and real. Most of all her love for the Lord and reliance on Him is obvious. I would have no hesitation in recommending Lina as a speaker for any size group.
Laura Colwell - Harvest Bible Chapel Oakville
Lina's energy is one that will light up any room. She will make you laugh out loud and also inspire you to dive deeper into the truth of God's Word. Her words and her books are a gift. I know they'll encourage and challenge you too.
Amy Cordova - BGCO Women's Missions and Ministries Specialist
Lina is unmistakably a preacher of God's Word. She is a preacher who preaches sermons, not an orator who delivers presentations. Jesus Christ shines through her messages. Anyone searching for hope can find it in the gospel that Lina faithfully trumpets with clarity, simplicity, and power.
Sarah Sumner - President of Right On Mission
Lina teaches with an incredible passion for the Word that ignites the audience. She is a master storyteller. Lina builds a connection with her audience, sharing her own personal stories and teaches scripture in a challenging, penetrating, and compelling way that inspires people to action. Our women loved her. She is an anointed teacher! I am grateful to have had the opportunity for our women to be impacted by her love and dedication to God and His Word.
Lisa Bishop - Park Community Church, Chicago
Of all the guest speakers we bring into Chapel to serve the Judson Student body, Lina is a speaker par excellence. She is one of the rare guests we invite twice per year since the students have found her to be more like family. She is thoroughly biblical and offers keen insight into the text, her application cuts to the heart of the student body, and her energy enraptures the crowd. We have found her to be a tremendous resource and friend to the ministry. Highly recommend!
Christopher Lash - Judson University
Lina has spoken at our church several times. Her passion for the Word of God is evident from the moment she steps up to speak. Her heart to reach people with the gospel overflows. When my ladies hear her speak, they leave feeling excited about Jesus Christ - who He is and what He has done and how we can live in light of that! Lina speaks in a way that is so relatable. Her own walk and testimony with God brings hope.
Tina Watschke, Women's Ministry Director - Crossroads Bible Church
Lina was a blessing and the women loved her. It went smoothly with all of the details. The women loved her topic and also how she was obedient to the Lord and changed it along the way. It spoke to many women and the feedback was all good. They want her to come back!
Kathleen Millers, Seniors Real Estate Specialist - Coldwell Banker Residential
Lina's appearances should come equipped with seat belts. Her energetic, contagious personality simply draws audiences out of their seats. Her message is real, applicable and infused with life experiences that inspire. Thanks to Lina, our event was a smashing success.
Denny Bender, Executive Director - Union Rescue Mission of Wichita
LIna will be asked for again! She was amazing in presentation, easy to work with, personable, energetic . and all of that after being home from the Middle East only one day!
Mari Parker - Kansas Nebraska Convention of Southern Baptists
Lina's messages are fiery, passionate and completed grounded in God's word. I can always trust she will be Biblical in her approach and will encourage women to pursue Jesus every day. Besides that, she is just flat-out fun!
Kelly, Church Mobilization Team - BGCO Women's Specialist