Chad Williams
U.S. Navy SEAL. Author. Speaker.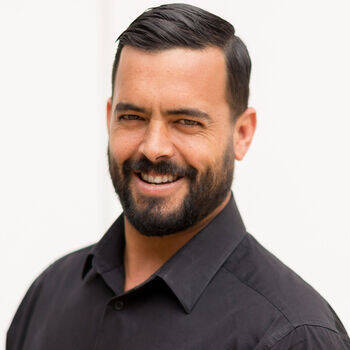 Chad Williams Text Reviews
We had Chad speak at an autoshow sales lunch for approximately 300 people last week. Over my years of having motivational speakers at these events, Chad is one of the best. I had several comments from individuals who attended and commented that this was by far the best they have been to in 25 years.
His major speaking points were:
1. Aim small miss small
2. Common man with uncommon desire to succeed
3. Humbly we serve. Servant leadership
4. Forged by adversity
5. Earn your Trident every day
6. Ability to control emotions and actions regardless of circumstances
7. Motivated by what we draw on the inside of a hat
I would recommend him.
Mike Keating, Zone Manager - General Motors
We could not have chosen a better speaker for our team building event than Chad. He captivated our 400-plus employees from the moment he stepped on the stage, delivering a powerful message of how every common person has the ability to strive for greatness by simply having an uncommon desire to succeed. The story he shared was sometimes emotional but thoroughly inspiring as he delivered lessons ranging from the importance of humility in leadership to how we are forged through adversity every day. The response from our employees after the event has been extremely positive and we are very pleased we chose him to deliver his message to our team.
Linda Massarella-Aiosa - On Top of the World Communities & Related Entities
My organization is comprised of Fire Chiefs and leaders of the fire service. Never have I seen this group of people give someone two standing ovations before. Chad Williams was engaging, well spoken and dynamic. His story energized the crowd and left our attendees wanting more.
Sara Stehle, CMP - International Association of Fire Chiefs
Your dynamic, inspirational, and motivational message hit home with the over 100 people who were in attendance. I have never seen them listen so intently to anyone, and they are still talking about it almost a week later.
Your intense and personal message about your life-changing experiences had a telling effect on the entire audience. We all came away not only with a determination to address our challenges with confidence and conviction, but also we were humbled by hearing of the path you have chosen for your life.
Carl - National Lime & Stone
Chad exceeded our expectations in his presentation on "7 Leadership Take-a-ways from a Navy Seal." It was informative and VERY interesting. He is truly a great speaker. One of the best we have had! We want to have him back to talk about his "experiences" with his SEAL team. Our members lined up to get his book and in fact he ran out of books. I think he could have sold 100 more!
Vikki Consiglio - Georgia Utility Contractors Association
I expected it to be excellent, you exceeded that!
Brad, Regional VPP Manager - OSHA
Drawing upon his experiences as a U.S. Navy Seal, Chad delivered an inspiring message of servant leadership, teamwork and communication which resonated exceptionally well with all in attendance. The feedback we have received since his presentation has been nothing short of phenomenal. In fact - many are saying it was the best guest speaker presentation we have ever provided them with the opportunity to hear.
Steve Fahner - General Motors
Chad Knocked it out of the park! His energy was electric. Chad is a great lead-off man and set the tone for our conference. His emphasis on teamwork, work ethic, and endurance was just the message our team needed to hear! Chad is a true American hero.
Chris - Wisconsin Fire Chiefs Association
Chad did a fantastic job with the kickoff meeting this year! He was a very interesting person and his story telling abilities were incredible. "Ducking boat," "Identity," "Not done until three people quit" and "The Human Condition" were all great nuggets.
Paul - ACE Asphalt
Oh my goodness, yes! Our staff and student body loved him. I can't thank you enough for providing us the opportunity to hear Chad speak!
Andrea Morrison - Snow Line Schools
After you hear Chad you will understand that we can accomplish our mission by unflinching commitment to our chosen profession. After you meet Chad, you will better understand honor, loyalty, integrity, faith and character. He is the real deal.
Mark A Moya - Honeywell Technology Solutions Inc.
Chad was great and our audience really enjoyed hearing him. His message was exactly what we needed for our event. Please extend our gratitude to Chad, he was the perfect way to end our Convention
Kristen - South Carolina Automobile Dealers Association
"The 2018 Western Conservative Summit was a huge success and it would not have been the same without Chad Williams there. His speech, following our Military Recognition, tied in perfectly to the theme of Fortifying Freedom and had a true impact on our audience."
Amy Smith - Centennial Institute
Chad Williams gave an amazing speech for our Annual Safety Celebration here in Brooklyn Park. The entire presentation was great and everyone really enjoyed him. He did an awesome job!
Amanda Anderson - Xcel Energy
Chad Williams was fantastic! Engaging, entertaining and genuine. The way he wove his personal story into the guiding principles of his life was very effective. I am so pleased that Chad joined us and we had a lot of good comments.
Rocky - Nebraska Coop Council
Back at the office after Chad's speech, staff kept stopping by to tell me how much Chad's talk inspired them.
Phillip Kiddoo - Great Basin Unified Air Pollution Control District
The presentation was both informative and entertaining.The size of the attendance was noteworthy; it was larger than our typical attendance to hear our guest speaker.I received a lot of good feedback regarding your presentation and the fact you related to the owners and executives as well as their spouses and some older children is a compliment to you.
Marvin, VP - Steel, LLC
Chad Williams did an outstanding job as our keynote speaker during our safety recognition day. He established an immediate connection with our maintenance personnel many of which are military veterans. Relating his real life experiences as a Navy Seal to the importance of training and leadership was spot on. I have received numerous positive comments from our group and I would highly recommend Chad to any organization looking for a speaker with an inspirational message.
Mac Fellin - Tri-State Generation and Transmission Association, Inc.
We have been getting nothing but compliments on your message, insight and motivation.

Clients were thrilled! John Fitzpatrick really thought you enhanced our program, his boss echoed that fact and their boss (Brian Sweeney – VP of Chevrolet) thought you were "just awesome!"
Dan Kehn, Regional Market Manager - Jack Morton Worldwide
I just wanted to take a moment and thank your for helping us book Chad Williams for our event last week. Last year I read Chad's book and I knew after finishing it that our school district needed to pursue Chad to be our keynote speaker at our next Classified Development Day. He exceeded my expectations. Chad's message was motivational and inspiring. It kept the entire crowd of about 300-400 adults captivated and at the edge of our seats throughout the duration of his speech. He did an excellent job relating his message to what we do in the schools to support the students and others we work with. His message drove each attendee to their feet for a standing ovation- which is something that I have never seen with any of our other speakers since I have been employed for the district. Chad was kind and humble enough to take the time to meet each person, and talk to anyone who wanted to shake his hand and thank him for his message and his service. We would not hesitate to book Chad Williams again in the future.
Seth Cutrell - Huntington Beach School District
Chad did an awesome job! He engaged, inspired and gave our attendees a great start to our conference as our opening keynote speaker.
Vickie Pritchett - National Fire Sprinkler Association
Chad Williams provided our group of 1,200 an energetic, motivating and inspiring speech that set the tone for our entire conference. Quite simply, he was real and his message resonated in a positive way for all attendees.
Vickie Pritchett Director, Outreach & Government Relations - National Fire Sprinkler Association
Chad's ability to use storytelling to motivate and encourage the audience is hard to find. He gives actionable ideas that any person can use in their day to day life. He took the time before the presentation to learn why we were having the meeting and how he could bring value to our company. Not a single eye moved from Chad during his hour presentation. He does a great job of keeping and demanding attention.
Tie Lasater, CEO - KeyCity Capital, LLC
'Earn your Trident every day' is my personal favourite key of Chad's shares as it was stoked by innovation, and underscores the value of being your best in the now; yesterday was yesterday.
Robert Tiffin, VP - Metal Building Contractors & Erectors Association
A Navy SEAL fights for freedom, for life; but for the unborn? How emphatic can I say YES! Chad's story was riveting; you could have heard a pin drop. Because he understands the critical importance of support to ensure victory as a SEAL, he wove the importance of resources into his talk with such brilliance that our fundraiser was a huge success! It surpassed our expectations and ensured our victory to continue serving mothers and babies!
Chad Williams is passionate, engaging, and an American Hero. Having him as our keynote speaker was an honor, and the robust standing ovation made this clear.
Betsy Gray, Executive Director - Network Medical Women's Center
Chad was above and beyond expectations! I heard rave reviews all day and my only worry is I won't be able to top it next year. He even got a standing ovation, which I have never seen at our safety breakfast before.
Jordan - Colorado Contractors Association