Relationships! Relationships! Relationships! - Ryan Sheehy bares his soul and shares his journey.
August 27, 2018
Educator/ Leadership & Life Coach, Author of "Be The One For Kids" and Co-Author of Principals In Action. "You have the power to change the lives of others, together we can unleash that power."
Education Motivation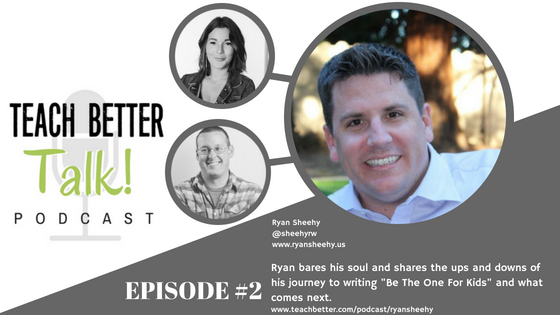 In this episode, Ryan Sheehy, elementary principal and author, bares his soul as he shares the ups and downs of his journey to writing "Be The One For Kids" and what comes next.
Ryan shares what "failing harder" means to him, the story of signing Eddie's soccer ball, and one very important, final message for every teacher out there.
Episode Highlights
1:42 – Ryan answers the question, "what do you do?"
4:46 – Ryan's "life purpose."
5:25 – Where "Be The One For Kids" came from.
6:15 – Ryan's journey to writing a book.
9:27 – What Ryan hopes the book will give you.
10:50 – Failing harder.
14:37 – Eddie's soccer ball, and believing in Nuvia.
21:04 – What Ryan is most excited about in education.
25:05 – 6 questions in 15 seconds or less…Ryan rocks it!
27:09 – How to connect with Ryan
28:13 – Ryan's final words for you.
Ryan's Recommendations
Who to Follow: Dave Burgess (@burgessdave)
YouTube/Instagram/Website/Blog: TED Talks Education
Daily/Weekly/Monthly Routine: Connecting with students about things outside the classroom. Also be active on social media and never stop learning.
Best piece of advice you've ever received:Relationships, Relationships, Relationships!
Links to Connect With Ryan
Want Ryan Sheehy for your next event?
Find out more information, including fees and availability.
Find Out More
Keep Reading