Premiere Exclusive
Dr. Ben Carson
Former US Secretary of Housing and Urban Development / Conservative Political Thought Leader / Renowned Pediatric Neurosurgeon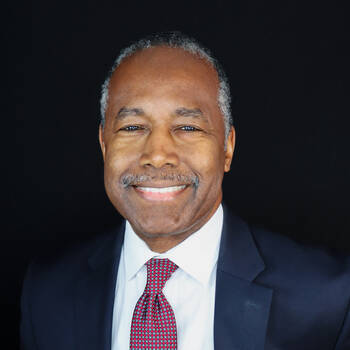 Premiere Exclusive
Dr. Ben Carson
Former US Secretary of Housing and Urban Development / Conservative Political Thought Leader / Renowned Pediatric Neurosurgeon
Expertise
Travels From
Baltimore/West Palm Beach, MD/FL, US
About Dr. Ben Carson
Dr. Benjamin S. Carson, Sr., M.D., is Founder and Chairman of the American Cornerstone Institute, a new think tank / do tank whose mission is to promote the 4 founding principles which are cornerstones of our country: faith, liberty, community and life as well as pursue common sense solutions that challenge conventional groupthink.
He most recently served as the 17th Secretary of the U.S. Department of Housing and Urban Development.
For nearly 30 years, Secretary Carson served as Director of ...
More Featured Political Speakers View All Today's most in-demand political speakers.