Peter Hillary
Mountain Climber and Adventurer, Son of Sir Edmund Hillary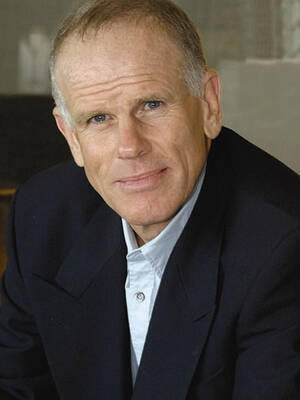 Peter Hillary Bio
In celebration of his father's historic first ascent of Mt Everest in 1953, Peter Hillary climbed to the summit of the world's highest mountain for his second time on the 25th of May 2002 as part of a National Geographic documentary. When Peter first summitted Mt Everest in 1990, he and his father, Sir Edmund Hillary, became the first father and son to accomplish this pinnacle of adventuring achievement. In January 1999, 42 years after Sir Edmund's epic Antarctic journey, they did it again; this time becoming the first father and son to have reached the South Pole overland from the coast and both of them establishing new routes to the South Pole. These are but two highlights in what has been a lifetime of high adventure and undertaking colossal and often frightening challenges.
Expeditions:
- Mountaineering expeditions include Everest West Ridge, Makalu West Pillar, Mt Vinson, Aconcagua, Lhotse, Amadablam and Carstenz Pyramid. In all, Peter Hillary has been on 38 expeditions and alpine seasons.
- Surviving the storm on K2: In 1995 eight climbers were ascending to the summit of this, one of the world's most treacherous mountains. Peter turned away 1200 feet/400m from the summit in the 'bottle-neck' just in time to retreat as a horrifying storm hit the mountain, taking the lives of all seven of his colleagues, including British climber Alison Hargreaves.
- Landing small aircraft at the North Pole with Sir Edmund and astronaut Neil Armstrong and around the world balloon pilot Steve Fossett.
- First ski descent of Mt Aspiring: the Matterhorn of the Southern Hemisphere.
- First Across the Roof of the World: The first high-altitude traverse of the Himalayan Range, 1981: a 3000 mile/5000 kms route from Mt Kanchenjunga in Sikkim through Nepal and India to K2 in Pakistan. The trio of Graeme Dingle, Chewang Tashi and Peter averaged over 13,000 feet/4000 meters altitude for the 10 months of the expedition.
- From the 'Ocean to the Sky': jetboating up the sacred Ganges river with his father in 1977. They drove up the river from the Sundarbunds in the Bay of Bengal to high in the Himalayas near Badrinath where they made first ascents of Mounts Nar Parbat and Akash Parbat.
- Shark frenzies in the Coral Sea: feeding and filming sharks with Ron and Valerie Taylor at the Osprey Reef 200 kms off the north Queensland coast.
Peter Hillary is an adventure travel operator and guide specialising in the Himalayas and Antarctica. He guided Qantas CEO James Strong on Mt Vinson in Antarctica and entrepreneur Dick Smith up Carstenz Pyramid in Irian Jaya. He holds a commercial pilot's license for fixed wing aircraft. He also works as a professional public speaker and writer. He is the author of five mountaineering books and one children's book; he writes magazine articles and consults on outdoor equipment design. Peter Hillary has worked on numerous television documentaries including two for National Geographic Television in Washington DC, PBS and ABC Australia.