Nicole Marquez
You Can't Stop this Dancer!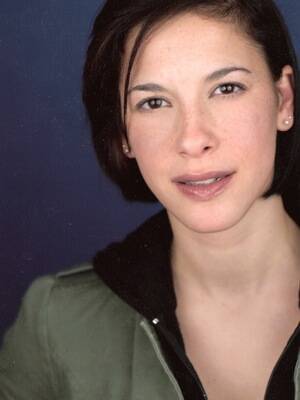 Nicole Marquez Bio
Nicole Marquez was destined to dance her way into people's hearts. Don't let her petite body fool you-she's a dynamo, full of energy and spunk!
From the age of three, Nicole was in dance classes. When she was ten years old, she was cast in a children's show produced by Mississippi Educational Television called Funnybones. Throughout high school, Nicole worked in television and radio. She had a weekly radio program called "Nic's Picks: What's Hot and What's Not." When she was a junior in high school, she was hired by the NBC affiliate in Jackson, Mississippi to do a weekly teen report for the evening news. For three years, Nicole reported on ordinary teens doing extraordinary things.
Nicole did some pretty extraordinary things herself, including dancing in a national Coca-Cola commercial, hosting a documentary series on teen smoking, being crowned the "Reina Latina" at the Mississippi Hispanic Festival and she was featured in an article for Teen People magazine.
Nicole went to college at the University of Southern Mississippi, where she majored in theatre and minored in dance. During college, she spent a semester abroad, studying in Pontlevoy, France and traveling around Europe. While in college, Nicole was an intern for the American Dance Festival at Duke University in Durham, North Carolina. Upon graduation, she did two acting apprenticeships. One was at the Berkshire Summer Theatre Festival in Stockbridge, Massachusetts, and the other was at the Actor's Theatre in Louisville, Kentucky.
After her apprenticeships, Nicole returned home to Mississippi where she worked as a production assistant on two national children's shows. She assisted with "Between the Lions," produced by Mississippi Public Broadcasting, and with "Lomax: The Hound of Music," produced by EyeVox Productions. She was also the assistant director for "You Gotta Move," a video dance series used in elementary schools, produced by 4-Tell Films.
In January 2008, Nicole felt it was time to make the big move to New York. She moved to Harlem with three actor friends from Louisville, and began auditioning. She enrolled in regular dance classes, and took a Pilates course. She got her mat certification in Pilates and got a job as a personal trainer at the Cornell Fitness Center.
All was going well until August 30, 2008. Nicole got locked out of her apartment building and went to the roof, thinking she could climb down the fire escape to her bedroom window. Once there, she decided it was a bad idea. The next thing she remembers is waking up in a hospital room.
Nicole fell six stories, and lay on the ground eight hours with a broken neck, back, pelvis, ribs and a punctured lung before being found by the building's super. After two surgeries, two months in the hospital, and three months in rehab, Nicole was walking again! She now spends three days a week in physical and occupational therapy and she works with a personal trainer five days a week. She is also in yoga classes and Pilates when she can find time.
Today she is dancing again, but in a different way. She does choreography for college dance students, and works with children. Nicole volunteers at the Blair Batson Children's Hospital in Jackson and has a full and rich life. Her message of perseverance, determination and hope is one she loves to share every chance she gets.