Michael Reagan relays values learned from his father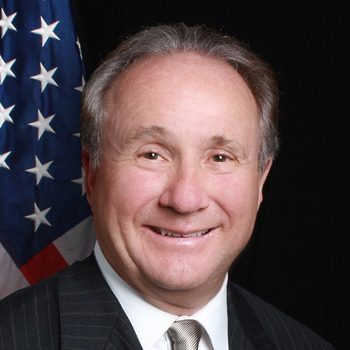 December 05, 2016
Eldest Son of President Ronald Reagan, New York Times Best-Selling Author
---
Through two brief moments of silence, Michael Reagan, son of the late U.S. President Ronald Reagan and his first wife Jane Wyman, powerfully expressed both the need to be forgiven and to forgive as he opened his heart to Liberty University students in Convocation on Wednesday.
After sharing his story of being abused as a child by an after-school program leader, and then that of his father surviving an assassination attempt in 1981, the younger Reagan called for the entire Vines Center crowd to join hands and say the Lord's Prayer. Telling the audience to live out rather than merely recite the prayer, Reagan paused after speaking the lines "forgive us our debts" and "as we forgive our debtors" so that those praying could lay their sins, and sins against them, in God's hands.
Making his second visit to Liberty in two-and-a-half years, Reagan also spoke on the topic of child abuse at the Liberty University School of Law on Wednesday afternoon.
Reagan is a political commentator, radio host, and a New York Times best-selling author. He generously provided copies of his latest book, "Lessons My Father Taught Me," free to Liberty students. He is also the founder and chairman of The Reagan Group, LLC and the president of The Ronald Reagan Legacy Foundation.
U.S. Rep. Robert Hurt (5th District-Virginia) introduced Reagan during Wednesday morning's Convocation, which was also streamed by Newsmax. Reagan's message focused mostly on his relationship with his father and the lessons that the actor and eventual leader of the free world taught him.
"Be who you are," Reagan advised. "Take a stand and don't be afraid of taking a stand. Know what you believe and why you believe it. (Ronald Reagan) taught me that as a child, and he never wavered from his beliefs."
Explaining how his father cared more about what he accomplished as president than who took the credit, Reagan encouraged his audience to consider how much more they can accomplish by working with others.
"Don't worry who gets the credit. Work toward the big picture," he said.
As he shared the painful story of being molested as a child and a victim of child pornography, Reagan explained the crippling pain that abuse brings and how societal stigmas isolate victims.
"Too many children get abused every year, and suicide becomes an option," he said, turning to a more hopeful note. "But the bigger option is God."
Reagan illustrated God's steadfast comfort by sharing a memory of his father. Suffering from Alzheimer's disease and unable to recognize his own son, the elder Reagan, in a brief and rare moment of clarity, remembered that his son had forgotten to give him his customary goodbye hug after a visit. Ronald Reagan stood in the doorway, arms outstretched, waiting for his hug before his son got back out of his car to embrace him.
"Christ stands in our door every single day with His arms wide open, waiting to hug us, to take away our pain," Michael Reagan said. "Thank God for that."
Liberty President Jerry Falwell publically and personally thanked Reagan for delivering his message.
"We are so honored and privileged that you were willing to share your heart with us today," Falwell said. "We were also privileged to hear the story of an American hero."
In the afternoon, Reagan delved deeper into the topic of abuse as he spoke in the School of Law's Supreme Courtroom. He talked about the challenges that victims face in life as well as the factors that allow predators to thrive. Among these factors, he said, are adults not believing children, the fact that most victims are preyed upon by a family member or close family friend, and the statute of limitations, which protects only the abuser after time goes by.
"Children need to know that they've got advocates out there who are going to do what they can do to put these people behind bars," Reagan challenged the aspiring lawyers in the room. "There are a lot of things that need to be done and they all start with law. … The children are out there and they are waiting for their champions because they are hurting … every single day. They need to know that they are loved, they need to know that they are believed."
---
Source: Liberty News
Want to bring Michael to your next event? Let us know here. We'd love to help make it happen!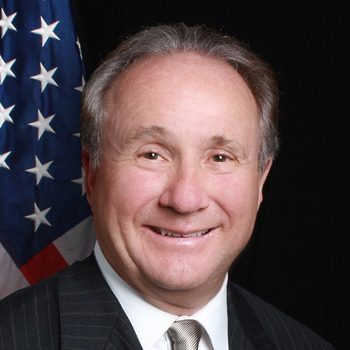 Want Michael Reagan for your next event?
Find out more information, including fees and availability.
Find Out More
Keep Reading