Michael McGrath
Diversity Specialist, disABILITY Champion, Polar Adventurer, Motivator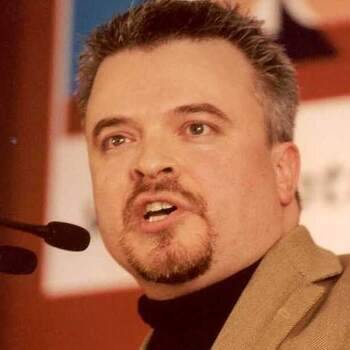 Michael McGrath Text Reviews
Michael's can-do presentation . . . was inspirational--in particular, he really brought life to the commercial imperatives of the diversity agenda--contributing significantly to the overall success of the event.
Alastair Camp, MD, Medium Business & Agriculture, UK Banking - Barclays PLC
His strong message of the powerful benefits to be gained by connecting with people was very well received; this will continue to add value for years to come in our internal relationships, with our clients and with our customers.
Paul Kirk, Group Managing Director - Carillion Transport
Superb presentation. . . . keeping a lively audience like our Senior Managers & Executive captivated for 45 minutes is no mean feat! Feedback was overwhelmingly positive, illustrated in part by the standing ovation.
Wolfgang M. Neumann, Area President - Hilton Hotels UK & Ireland
Michael is an inspiration. He has a thoroughly positive outlook for somebody facing such adversities.
Sir Richard Branson, Chairman - Virgin Group
He speaks with great eloquence and inspires the listeners to want to do more with their lives rather than just sit there and listen to a great adventure. He developed a real "can do" attitude in many of his listeners.
Helene Bard, Director Global Mobility EMEA - Nortel Networks
It was obvious from the outset that Michael possessed the grit and determination to succeed . . . the presentation he gave to our Board of Directors and Senior Management in sharing both the excitement and hardships of his trip confirmed our expectations.
John Simpson, Chief Executive - The Mayflower Corporation plc
Michael is . . . an exceptional leader, motivator & diversity champion. Strong awareness & involvement in business helped him provide a well-structured lecture that gripped all present with its directness and engaging style.
Attendee - European Speaker Series Marking The UN International Day of Disabled Persons
He articulates with immense power and authority, engaging his audience both emotionally and intellectually.
Fast Track 100
Our 2007 conference ended on a high note as every single one our distinguished delegates and invited guests applauded with a standing ovation. . . . An outstanding speaker and commanding communicator.
The Master Innholders
Direct, considered, inspired and inspirational.
F. Hoffmann - La Roche Ltd Pharmaceuticals Division
A very professional speaker who took the time to research our organisation to personalize his delivery, which further enhanced a talk that can best be described as impactful and thought-provoking. A very slick and professional performance.
Shoosmiths
A great and inspiring story told in a humble and engaging manner. Michael gives of himself in a genuine and authentic way. His belief in what he wants to achieve and his focus came out very strongly capturing the hearts and minds of the audience.
Talent Development Lead - Motorola Mobile Devices, Europe
Thank you for sharing your personal journey and how you overcame extreme challenges within your life to the Poles. I feel that it is only by people telling real stories and sharing something that is truly about them that people actually learn.
Director - Modernisation Initiative
The reaction of everyone standing up at the end of your keynote delivery at our Senior Management Conference was a massive tribute. I have never seen that before!
DHL UK & Ireland
Brilliantly conveyed, summed up by that impromptu standing ovation. 500 distinguished business guests from all corners of the Middle East were inspired, humbled and incredibly proud to have witnessed your powerfully engaging keynote address.
Business Traveller UK
. . . he held the audience spellbound and enthralled by the story of his efforts to reach both the North and South Poles, and lost in admiration for his ability to use his achievements to help others with the muscle wasting disease Muscular Dystrophy.
Royal Geographical Society, Institute of British Geographers
Michael's talk and DVD demonstrated what individuals can do to change if there is a strong enough will. I have seen this . . . but the added sense of overcoming the "you can't do that because of your condition" made it all the more powerful.
National Audit Office
Thank you for a brilliant, thought-provoking speech that was entertaining, stimulating and moving. I am sometimes asked to recommend speakers and I will certainly recommend that corporate companies contact you.
YES Consultancy Ltd