Kerri Pomarolli
Actress, Comedienne, Author & Speaker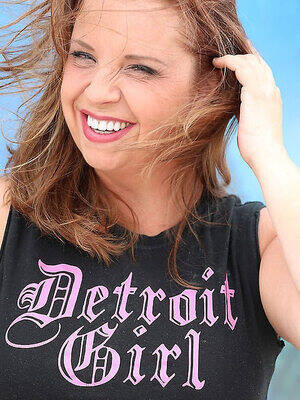 Kerri Pomarolli Text Reviews
Kerri Pomarolli was a joy to work with. She was so funny. It was a wonderful night and all of our attendees raved about her performance. Her humor was a breath of fresh air and I found myself laughing through the entire performance.
Kim Brazell - Gordon Hospital
Kerri is one of the funniest women I know. Her ability to take life's challenges and turn them into great stories is extraordinary. I would hire her for any event and be proud to have her making my guests laugh.
Kathleen Schulweis, PhD - Confidence Connections
Kerri Pomarolli was a rare treat at our company event. She wowed us with her flare for the "funny" and a great time was had by all. She was my favorite part of the celebration.
Rusty Russtucia - Ford Motor Company
Kerri's comedy is refreshing and hysterically funny. She hits people where they live without resorting to cliches. If all clean comedians were this funny we'd be blessed
Monika Moreno - Angeles Film Awards
Few comedians these days can work a room like Kerri, everyone can relate.
Steve Berg
Watch out!! This girl is climbing fast. Book her now while you can still afford her. Funny, quick, with a genuine sense of humor and great timing. A total original. Great talent.
Gary Hersberger - TV Actor
When my employer, North Kansas City Hospital, was looking for a good fit for our spring women's event, I immediately thought of Kerri. Because of her success, she wasn't too hard to track down and after watching her hilarious videos, I KNEW she'd be a good fit for North Kansas City Hospital's Club W program. Club W is a women's program that engages women to feel good, look great, and live a healthy lifestyle. With a crowd of over 250 women (and a few brave gentlemen), we were so very delighted with the results! I've never heard "belly-laughing" like I did that night. Her ability to take everyday things and make them hilarious kept the audience in stitches. Her genuineness and ability to laugh at herself immediately bonded the audience, and by the time she ended, she had 250 new devoted friends! Thank you, Kerri, for your humor, your professionalism, for being so easy to work with and most importantly, for reminding us all not to take ourselves or life too seriously. To good health!
Melanie Beard, Community Benefits Coordinator - North Kansas City Hospital
Kerri Pomarolli is the very best comedy act I have ever seen. Her performance at the Gideons International Mission Viejo Camp Christmas dinner party was exceptionally funny, charming and entertaining. It was mentioned by more than one person that Kerri's performance has set a new high standard for our future Christmas dinner parties.
Steve Lambright, President - Gideons International
Kerri Pomarolli is one hilarious chick! She is inspiring and encouraging. The Big Apple audience loved her!
Donna, East Producer - Lambs Theater, NYC Off Broadway
Kerri Pomarolli was a hit as our headliner at our comedy club. She not only has a stage presence that is entrancing, but she is a great person as well. We enjoyed meeting her and were blessed by her performance.
Kimberly Sellin, Owner - Synergy Comedy Club
Kerri was absolutely perfect for our event. She was funny, relatable and brought the house down with her comedy. We look forward to working with her again!
Rachel Horne, Community Relations, Anson & Union County - Carolinas HealthCare System
Kerri wowed the audience with her endearing and engaging stories of overcoming. She's awesomely funny and has spot-on timing. She's got a knack for reaching people; we all left inspired and feeling we could conquer the world. You definitely want Kerri to speak at your next corporate event!
Valerie Ross, Correctional Educator - CCCOE/CDCR Parolee Education Program
Kerri was wonderful to work with. She did an amazing job being our Emcee. She grabbed the crowd's attention and made them laugh (us too). We are very pleased with the celebrity cooking event with Chopped Champion Chef James Brisione, thanks to Kerri.
Kate Killian, Public Relations Manager - Doe Anderson Inc
Kerri Pomarolli had the packed house at the KKLA Women's Night Out laughing so hard they were crying! Her performance was fresh and upbeat and every woman in the audience could relate to her insightful and humorous musings on life. She was witty and charismatic. Kerri was a strong factor in our promo campaign for the Women's Night Out event. Using her in our ads gave the event a lot of appeal. Everyone wants her back for a 2nd year.
Kimber Stoutland, Marketing Consultant - Salem Communications
Kerri did an absolutely wonderful job and soooo many people came up to me afterwards and have e-mailed me saying what a great time they had and how GREAT she was!!! She also gave such a great message that day...I noticed several people had tears in their eyes, including myself. She was such a blessing to us, our organization and everyone there. I hope Kerri continues to inspire and entertain others as she did for us. We would love to have her again at one of our future events.
Kelly Irwin Franks - Kenny Irwin Jr. Foundation (Children's charity)
Fort Benning enjoyed Kerri's humor and entertainment. Her parents and two daughters were a special added bonus (since her mom and dad are vets themselves!). Thank you for the laughs and your inspirational message.
Theresa Sanchez, Prevention Coordinator - Family Advocacy Program
Kerri gave an inspirational and motivational speech to teachers in honor Teacher Appreciation Week. She recognized their efforts of dedicated service and how invaluable they are to all students, parents and the overall school community. We loved her energy and presentation!
Valencia Blue, Principal - Playa del Rey School for Advanced Studies