Premiere Exclusive
Jon Acuff
One of INC's Top 100 Leadership Speakers, New York Times Bestselling Author of Soundtracks, Finish and Do Over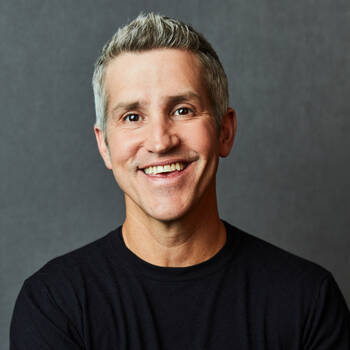 Jon Acuff Text Reviews
"Hustle is an act of focus, not frenzy" was just one of the messages Jon left the EMC Finance leadership with this week. Jon spoke directly into the challenges our managers are facing at a time when we need it the most. His energy, encouragement, and insight was the perfect way to wrap a week on inspired leadership.
Jon Bosland, VP, Finance - EMC Finance
In the middle of a challenging season, Jon did a virtual event for our team that provided encouragement, clarity and actionable next steps we could all take. I told him after, 'I never looked at you once during your presentation because I was so engaged taking notes from the content.'
Greg Sankey, Commissioner - SEC
We asked Jon Acuff to talk directly to our team to supply them with the tools to overcome these mental obstacles in our new virtual world. The call was incredible. In my team debrief a week after our call with Jon, it was astounding to hear all the different tips, techniques, and tools that resonated with each individual in an hour-long call, equipped with Q&A with Jon. We are so grateful for his time and for his ability to truly listen to the needs of the team in the pre-prep meeting. He's so personable, approachable, and smart. He speaks to people in a way that is real and resonates. This was an exceptional opportunity for me and my team.
Brittani Lambert, VP of Global Events - Young Living
Thrivent has booked Jon to speak for years so we were confident that he'd knock it out of the park even on a virtual event. From pre-meeting prep to having a dedicated studio for a high quality experience to interactive engagement with our viewers, every detail was flawless. If you have a team you want to encourage, a customer group you want to inspire or work force you want to support with a hilarious, helpful message, book Jon for a digital event!
Erika Colonna - Thrivent
'Pivot, Don't Panic' was the perfect topic for what we're going through right now. It was informative, inspiring and a whole lot of fun. You can also tell Jon has spent years on camera because he brought the same energy, enthusiasm and presence to the virtual event as he would a live event. I received numerous messages from advisors, managing directors and members that appreciated his keynote. If you have a virtual event on your calendar, make sure you add Jon Acuff to the lineup!
Genevieve Parent Team Leader - Events - Desjardins
Jon Acuff was brilliant and engaging. Our employees absolutely loved the talk. We didn't have any negative feedback and in our survey actually 100% of employees agreed it was value use of their time which was more than any speaker we had that week.
Erin Hartje - Microsoft
Jon spoke to a group of players working to build their professional skills and identify areas of interest outside of football. The principles Jon focused on were relevant, motivational, and enlightening for the group. Jon is also very relatable in his content and delivery and approachable while engaging in follow up questions and conversations. Ultimately, he helped set the stage for the players to succeed in their off-season pursuits.
Connor Ford , Player Manager - NFL Players Association
I was inspired by Jon's talk and invited him to speak to my class of seniors at Vanderbilt. Three students have already written me to say how relevant and applicable Jon's comments and advice were as they think about graduating and marketing themselves.
Meaghan Mundy, Phd - Vanderbilt
Whirlpool Corporation strives to bring excellent development opportunities to our members. We found all of Jon's content to be relevant and insightful, often incorporating examples and references specific to our group.
Daniel Page-Wood, Board Chair, Whirlpool Leaders Group - Whirlpool Corporation
The human desire for a greater purpose and to chase one's dream is often a heavy subject, but Jon Acuff inspires audiences and shares achieving your dream as not a chasing of the wind, but as an attainable goal for anyone willing to put forth the effort.
Jarron Springer, CEO - Greater Nashville Association of REALTORS
We have heard nothing but positive feedback from our students . . . they really responded well to him! fit perfectly into the current "Vocational Emergence" theme we are emphasizing in our co-curricular programming.
Amy, Resident Director - Vanguard University
As a business owner (and a marketing professional), it's rare to find someone who 'gets it'--and more. Getting Jon's consulting for some particular challenges I was facing was like inhaling a breath of fresh, easy air. Highly recommend that you hire him!
Nate Hagerty, CEO - TaxProMarketer
Who knew that an educational session on social media for small businesses could be that fun? I lost count of the numerous requests that I had from attendees asking to bring him back. If you're looking for a speaker who truly understands small business.
Tracie Rollins, Content Strategy Manager - Infusionsoft
Jon Acuff is a beast; he delivered a powerful and extremely relevant message to our team!
James Franklin, Head Football Coach - Penn State University
Jon was a huge hit! Everyone loved him. I am hearing comments every day about his presentation. Once again, you provided us a top notch speaker!!!
Felicia Ryerson, Chief Learning Office - Florida Virtual School - FLVS
Jon understood our company and how our culture worked. He integrated this into his keynote flawlessly. He did a great job of reeling the audience in from the start. He even took personal experiences with his pets and family to further relate to our staff.
Ryan Geibel, Financial Analyst - Primes - Mars, Inc.
Jon is one of the best speakers that I've had the privilege to work with. Everyone walked away with principles that can be applied to their work life and extend to their personal lives as well. All around, a great experience.
Regina Ciaravino - Cornerstone Chamber of Commerce
We recently featured Jon at our company's first major customer meeting in 8 years. He infused energy and humor with his well-crafted message. And that message of overcoming fear and inertia in the face of change was completely on point with our customers.
John Kringel - Director of Marketing, DENTSPLY GAC
If you're looking for a speaker who really cares and will go the "extra mile", I highly recommend Jon Acuff. He really takes the time to understand the audience that he is speaking to, not only where they are but where they want to be in 6 months, a year, or a career. Jon immediately connects with his audience, seamlessly storytelling his way through reality, research and real-life ways to take action.
Kate Franklin - Traveling Vineyard
Jon has an amazing way of keeping you laughing all the while throwing truth bombs right at you! His talks are always, motivating, challenging and spot on!
Jerri-Anne, Elevate Events
As a healthcare company, we're no stranger to rapid change, but it's important to clearly communicate to the company about how we will adapt. Jon Acuff was an exceptional keynote speaker who took the challenge to address this issue head-on by articulating how to navigate disruption and use it as positive momentum. His presentation was equal parts educational, motivational and funny, keeping the crowd engaged for 60 minutes. We received such positive feedback from attendees, acknowledging that Jon was an engaging speaker and provided actionable takeaways. We look forward to having Jon speak at future events!
Stuart Clark, CEO - Premise Health
Whether you are a CEO, manager, or new employee, Jon's message resonates with you. His engaging, practical, and entertaining presentation inspired professionals at all levels to set and pursue goals that they could actually accomplish. Not only did our audience of 400+ organizations learn how to improve their work, but they also had fun while doing it.
Madison Ray - State Policy Network
We spend an entire year curating a collection of speakers, artists and visionaries for STORY conference. Every moment is meticulously planned and every speaker is the best at what they do. They come from some of the world's leading brands and organizations, like Nike, Google, Apple, Disney and more. This year, Jon was the top-rated speaker from the audience surveys. Book him, and you'll see why!
Harris III, Founder + CEO - Istoria Collective
We would bring Jon Acuff back to Walmart anytime. He not only has executive presence, but he has lived the role & responsibilities. His ability to talk to any level is incredible. He is professional, honest and human. He inspired our team and made the difference.
Clara - Walmart
It would be impossible for me to give Jon a higher level of endorsement. Over the past 10 years Jon has presented to our groups on 7 occasions and has been our highest rated presenter each time. I have zero hesitation in giving you my highest level of assurances that Jon have incredible impact on your event.
Ron Kitchens - Southwest Michigan First
Akamai's Marketing and Sales Leadership teams are still buzzing about Jon's talks. It's a testament to not only his obvious talent with humor and impactful storytelling in front of a crowd, but how he was willing to listen and adapt the content to what the teams needed to hear.
Ari Weil VP Product Marketing - Akamai
In the midst of uncertain times, it's important that teams have a clear vision about the best way to move forward. That's exactly what Jon Acuff provided for our student athletes. He brought incredible energy, real world advice and a relevant message that greatly encouraged our team. If you have a team or organization that needs a boost, I highly recommend Jon!
Dr. Brett Reed. Men's Basketball Coach - Lehigh University
The feedback for Jon's virtual event is pouring in, and quite literally, is the best we have received. WE ALL LOVED IT ALL! We loved the set-up. We loved the content. We loved the delivery and, of course, we all REALLY loved Jon. He definitely made a positive impact and I can see from the feedback that people were moved to try new things. The connection over video was OUTSTANDING! It felt like he was talking right to each person individually.
Genevieve Skory, Sr. Director Global Ambassador Training - Plexus Worldwide
Jon's presentation on "Do Over" was excellent and directly applicable. We also appreciated his willingness to massage portions of his presentation with examples and personal experiences in order to emphasize the importance of taking ownership of your career. He encouraged our team to create specific goals to improve our Relationships, Skills, Character and Hustle.
Jon is an exceptional speaker, and we received tremendous positive feedback following the event. My email box was flooded with Thank You Notes! Jon's message really resonated with our teams, and we hope to have him back again in the future.
Julie L. McLaughlin, Vice President Finance - Alliance Data
From the time Jon Acuff hit the stage until long after he departed from Northwestern, there was an electrifying buzz across campus. As one of the most gifted communicators we have ever brought to our campus, Acuff is truly 2nd to none. He has become a great voice for the next generation leader and has the unique ability to weave humor alongside with hard hitting truths.You will not be disappointed with the results with your students and key constituents alike, as Acuff calls them to raise the bar and look through a new lends of leadership.
Jim Johnson, Sr. Director, Development Relations - University of Northwestern
Jon's presentation, "Pivot, Don't Panic: The Four Investments Smart Teams Rely on During Uncertainty" gave our members tools to improve their leadership, enhance their business, and leverage the opportunities that exist beyond the crisis.
Joel Carson CEO & Executive Director - Geoprofessional Business Association
Jon was definitely the highlight of the meeting and people are STILL talking about it! I actually need to watch his virtual presentation again, I felt like I was giggling so much I missed some of his great, witty punches.
Jennifer Owens, Vice President, Strategic Events - Intalere
Our company kick-off was forced into a virtual setting due to the pandemic but that didn't take away from the impact that Jon was able to bring to our team of 500+ employees. His setup was professional and his delivery still packed a punch, expertly weaving in our core company goals and strategies that were top of mind for our organization. Hiring him definitely elevated our event.
John Seeds, VP of Marketing - Avtex
Like many companies in 2020/2021, we had to change our annual sales meeting to a virtual format with over 1200 attendees. Jon was very gracious with his time and did several prep calls with our team to customize his message to resonate with our sellers. His message was simple, impactful and fun and we had very positive feedback from our teams across North America.
John Lyday, CHRO - Bunzl Distribution
Jon, we told our team that you were going to hit a homerun and you delivered (Babe Ruth style). Thank you for asking us great questions and taking our insight and making it practical, personal, and fun for our leaders. The energy in the room is buzzing as our team talks through the questions you inspired us with. We can't say thank you enough. Great job!
Jeremy McCarter, Director of Site Development and Strategic Growth - Southeastern University
Jon, a big fat THANK YOU for rockin' the house for my VIP backstage virtual event! I am amazed at how sentence after sentence, topic after topic, you struck a relevant chord. My computer monitor is quickly being populated with Jon'isms" I've written on post-it notes and the follow-up comments from attendees are on fire!
Ronda Robinson - Legendary Leaders Club
If you're looking for a keynote speaker look no further. Jon's virtual keynote absolutely blew us away! We weren't quite sure what we were getting ourselves into by booking a keynote for our virtual conference. Would the energy be the same? Would the jokes land? Would it feel as impactful as having someone live? If you book Jon Acuff, the answer is a resounding YES. Jon's talk not only provided solid takeaways and insights, but it was also entertaining, engaging and memorable. Out of a score of 5, Jon's keynote rated a 4.92 and ended up being the highest scored session of our entire conference.
Jon was incredibly easy to work with and from our initial phone call I could tell that he was willing to do anything in his power to make the presentation a success. During that call Jon asked questions to get to know our audience and what our goals were for the presentation, he took that conversation and then did a great job of seamlessly weaving in our industry and company specific jargon to make our audience feel seen and understood. From a logistical standpoint, his physical set and presentation was incredibly professional and worked flawlessly. With the virtual world, things can sometimes feel a little bit out of a planners control but Jon and his team have completely perfected the virtual keynote experience. I can't wait to work with Jon again!"
Casey Mirick, Senior Events Manager - Audigy Group
Jon is a dynamic speaker who showed immense empathy for our audience. We had folks show up from more than 15 different countries, staying up late and waking in the middle of the night to benefit from his expertise. He connected with folks individually, and made the principles of finishing and overcoming overthinking accessible to all. Folks have been buzzing about the session ever since.
Jeremy Utley Director of Executive Education - Stanford d.school
"We survey our attendees and one of the questions we ask is, "Who was your favorite speaker / what was your favorite session?" The overwhelming response was Jon Acuff! I've worked with countless speakers over the years and I want to sincerely tell you that Jon is one of the best. From the pre-event marketing videos and the podcast episode to the content delivery, humor and relevance - it was truly outstanding. I would recommend Jon to anyone.
Jesse Tervooren, Programs Director - DEO - Dentist Entrepreneur Organization
Amongst our highest rated speakers, Jon Acuff brought the perfect mix of application and humor to our event. He is a consummate professional, crafting his content to meet the needs of the organization and to deliver the strongest possible impact. If transformation is your goal, Jon is the perfect speaker to move your leaders towards deeper thinking and wider growth.
Karen Gronowski, Speaker Elevation and Acquisition Director - Global Leadership Network
The event was amazing! We are receiving such great feedback and our dealer network is feeling more energized than ever. Jon was a huge hit and had the audience dying in laughter, while at the same time, viciously taking notes in their journals. I cannot tell you how easy he was to work with not just onsite, but prior to the event as well. He was such a breath of fresh air and was the perfect fit for our program. I hope to use him again for more events to come!
Amy Gunn, Director of Events - Supportworks