George Couros
The Principal of Change: Stories of Learning and Leading; Author of "The Innovator's Mindset" and "Innovate Inside the Box"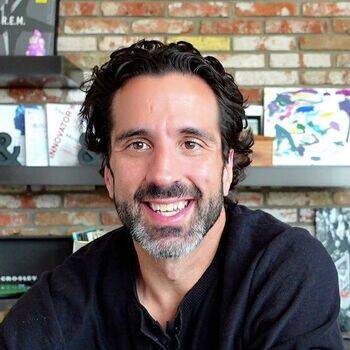 George Couros Text Reviews
When George finished speaking, a new energy filled the room. The buzz was deafening. The enthusiasm was exciting. One administrator, who admitted to me a week earlier that he just didn't "get" Twitter, said that George's talk was transformational.
Tia Henriksen
George Couros wowed the Alberta School Board Association with his passion and skill for using social media in his division to build connection to create collaborative learning. He stated many times it's not about technology--it's about relationships!
Kim Bater
The key note presenter, George Couros, is a fantastic speaker who put everything into the perspective of a school and teaching situations. His presentation and "Master Class" has been instrumental in changing paradigms for me, my colleagues . . .
Rachael Bath
session was titled "Teaching and Learning in the Digital Age" and his key message was "Learn, Connect, Humanize". In this one hour presentation I wanted to learn how, as a teacher, I can connect and engage with my students and school community more.
Kathy Turley
There are a few people in the world of educational blogging whom I follow almost religiously. One of them is George Couros. George has an approach to his profession that is challenging convention and creating the future of education.
Katie Hellerman
Thank you to George Couros for the wonderful impact he has had and continues to have on our district. He stretches our thinking and compels us to engage in new behaviors to push our learning, practice and influence forward.
Elisa Carlson - Surrey Schools
George Couros came to SCH and connected with our faculty in ways I have not seen with other speakers, educators, and experts. It's exciting to imagine how a wider web of educators will begin to spin education differently for our children.
Priscilla Sands, President - Springside Chestnut Hill Academy
We invited George Couros to provide a keynote for our staff of more than 1,500 PreK-12 educators. He brought the house down and was recognized with a long standing ovation. Our teachers' feedback included "Best keynote ever!" We cried. We laughed. We learned.
Dr. Elizabeth Freeman, Director of Professional Development and Programs - Community Unit School District 300