Doug Stevenson
Storytelling in Business Expert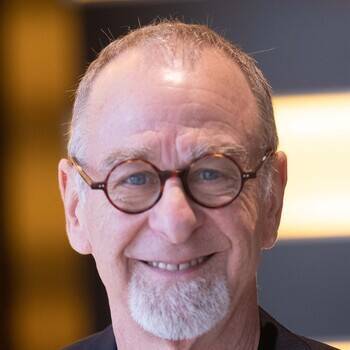 Doug Stevenson Text Reviews
Wow! I've had emails, phone calls, hugs and congratulations from just about everybody who attended your storytelling program. They are all feeling energized and excited. You breathed new life into us and validated our skills and deep experience as storytellers; exactly what we needed to go forth, listen and tell.
Patty Perkins, Internal Communications Solutions - Wells Fargo
Our group of mostly fortune 500 companies gave Doug our highest presenter rating and felt that he provided very practical tips with specific usage that they could put into action. Storytelling is vital for effective communications and Doug certainly delivers that message in a targeted, enthusiastic and engaging presentation! If you're looking for a storytelling in business speaker, Doug Stevenson should be your first call.
Steve Tingley, President - CMMA
Recently, I used many of the storytelling skills that you shared during your presentation at our leadership retreat. Those skills helped me connect with the audience and take them on a journey….Your unique and engaging style of teaching storytelling made a big difference in my presentation.
Frankie Eichenberger, Regional Market Manager - US Bank
. I actually don't have words to express how my outlook towards life has changed by attending your Presentation session. I am confident, motivated and inspired to confidently express myself ….all credit to you. I can't thank you enough!
Preetaman Wadhwa, BAI Manager - Amgen Biotech
Your delivery was engaging, enlightening, and entertaining. Your presentations were the two highest scoring sessions in our entire conference. Your breakout session was also the only standing room only one of the entire conference.
Brian R. Gareau, OE + E Manager - Caterpillar
I've personally used what I learned from Doug and have found it to be practical, valuable and fun. I've also hired him two more times to work with other groups. His workshop is both inspirational and very practical, with easy-to-use tools and techniques. I'm constantly looking for opportunities to bring Doug back into Oracle and I highly recommend him. Doug Stevenson delivers!
Elizabeth Wiseman, VP - Oracle University
"In short – you were wonderful. Your style is open, honest, fun and thorough. You demonstrated an understanding of the issues we face as a company, including the competitive nature of our business. You listened to our needs and incorporated each one into your presentation. Honestly, this was the first training seminar I've put together where no one fell asleep! The evaluation forms enclosed say it all.
Patricia Pigoni – Assistant VP - Illinois State Medical Insurance Exchange
Your keynote address at our National Sales Meeting was well received by our entire organization. Your presentation format, practical examples and consistent humor were contributors to that crossover success.
Ben J. Tensing - General Manager - Harter Furniture
The only person I know who can translate the art of storytelling into an understandable science is Doug Stevenson. You will be a better speaker after studying with this Master Storyteller. I know I am.
Chris Clarke-Epstein, CSP - Past-President - National Speakers Association
Your program on change was inspiring, funny and one of the most entertaining that I ever heard. The attendees agree that it was one of the best ever.
Donna Schroeder - Staff Support Manager - Southwestern Bell
Your humor as well as motivational speaking captivated audience attention. The audience participation made for an up-beat session. It was a great success.
Michael Johnson - Human Resources Manager - UPS
The techniques I learned from Doug's Story Theater Retreat a couple of years ago have helped me out tremendously. I'm currently doing about 20 big events a year with Zig Ziglar.
Ruben Gonzalez - Three-time Luge Olympian & Story Theater Retreat Graduate
An absolute must for anyone who wants to improve their ability to captivate an audience with a story! I will recommend Doug's program to anyone who will listen!
Dan Maddux - American Payroll Association