Devon Harris
Member of the First Jamaican Bobsled Team; Inspired the Disney movie "Cool Runnings"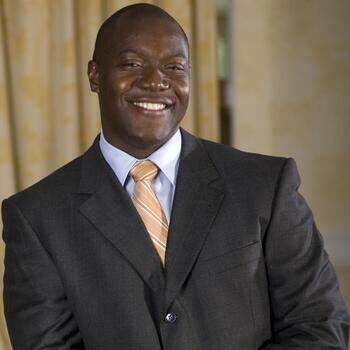 Devon Harris
Member of the First Jamaican Bobsled Team; Inspired the Disney movie "Cool Runnings"
About Devon Harris
Born on Christmas Day, 1964, the world should never have heard of Devon Harris. He was raised in one of the most violent slums of Kingston, Jamaica yet he graduated from the prestigious Royal Military Academy Sandhurst in England and served as an officer in the Jamaica Defence Force. He started off as a barefoot boy trying to win a track race and became a member of his country's first Olympic bobsled team. Circumstances and others constantly told him it was impossible but at every step of the way ...
I asked you to try to inspire these young men and women as they begin their careers in health care, and you certainly did that. Your life story is remarkable and the positive reflections you make are very empowering.
Dr. MaryBeth Mandich, Assoc. Dean - Professional Programs - West Virginia University School of Medicine
We truly enjoyed having Devon as the speaker for our event. His warmth and passion really engaged the audience members. Most importantly, he was able to tie his expertise (athletics and sportsmanship) to what's important to our audience.
Aviva Belsky - Association of Medical Publications
Devon Harris spoke to our church prior to our participation in a medical/dental mission trip in rural south Jamaica. His personal story, with his energetic and engaging speaking style, greatly increased the focus and personal ownership of the work.
Bill Todd, Christian Formation Director - Woodcrest Chapel
Devon had the audience in tears and laughter almost at the same time. His ability to compare his story with a pattern for conducting our lives was outstanding. He received one of the few standing ovations we have ever given a speaker.
Chuck Brandon, Director of Field Services - National Propane Gas Association
I want to personally thank you for your polished and incredibly motivating presentation at our annual meeting. The way that you wove our organization's mission and challenges into your presentation was uncanny.
Donna Wachter, Executive Director - Association of Professors of Gynecology and Obstetrics
Thank you so much for making our meeting a memorable event. When Devon started to speak the room became so quiet you could hear a pin drop! The audience was hanging on to every word he said. Everyone was so inspired and challenged by Devon's story.
Harriett Matthews, Consulting Services Group - American Express
24 speaker reviews for Devon Harris View All