Devon Harris
Three-Time Olympian with the Original Jamaican Bobsled Team; Helping Audiences Visualize Success with an Olympic Mindset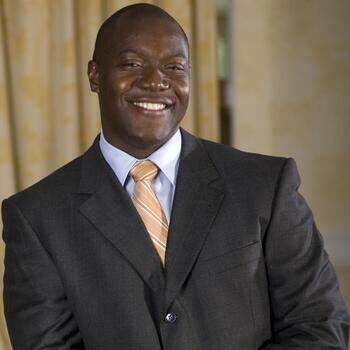 Devon Harris Text Reviews
I asked you to try to inspire these young men and women as they begin their careers in health care, and you certainly did that. Your life story is remarkable and the positive reflections you make are very empowering.
Dr. MaryBeth Mandich, Assoc. Dean - Professional Programs - West Virginia University School of Medicine
We truly enjoyed having Devon as the speaker for our event. His warmth and passion really engaged the audience members. Most importantly, he was able to tie his expertise (athletics and sportsmanship) to what's important to our audience.
Aviva Belsky - Association of Medical Publications
Devon Harris spoke to our church prior to our participation in a medical/dental mission trip in rural south Jamaica. His personal story, with his energetic and engaging speaking style, greatly increased the focus and personal ownership of the work.
Bill Todd, Christian Formation Director - Woodcrest Chapel
Devon had the audience in tears and laughter almost at the same time. His ability to compare his story with a pattern for conducting our lives was outstanding. He received one of the few standing ovations we have ever given a speaker.
Chuck Brandon, Director of Field Services - National Propane Gas Association
I want to personally thank you for your polished and incredibly motivating presentation at our annual meeting. The way that you wove our organization's mission and challenges into your presentation was uncanny.
Donna Wachter, Executive Director - Association of Professors of Gynecology and Obstetrics
Thank you so much for making our meeting a memorable event. When Devon started to speak the room became so quiet you could hear a pin drop! The audience was hanging on to every word he said. Everyone was so inspired and challenged by Devon's story.
Harriett Matthews, Consulting Services Group - American Express
As a principal for an event marketing agency hired to manage and host former Olympic athletes for one of the premier Olympic sponsors, I can report without reservation that everyone from the general public to the highest executives loved Devon.
Holly Clifford, VP - Hope-Beckham, Inc.
Mr. Harris delivered an exceptional speech to our approximately 200 employees that was both motivational and inspirational. His speech transcended athletics and spoke to the broader issues of hard work and perseverance that make all things possible.
John Elms, President & CEO - SpectraLink Corporation
Devon Harris was a motivational dynamo! He researched our company and incorporated some of our acronyms and business practices into his keynote address. We found the story of his life moving and uplifting. His humor kept us laughing throughout his speech.
Marla Thompson, Sales Planning Manager - GCI Communications Corp.
We were so impressed with Devon's ability to motivate our staff and incorporate our company goals within his inspiring presentation that we booked him to return the following year. Devon's a gold medal winner in our books!
Marsha Gerontis, Director of Marketing - Tel America
"Devon Harris had everyone on their feet. Our entire workforce gained from his experiences and insights. I received nothing but praise for booking Devon - from our company president to the folks in the mailroom. We look forward to working with him again."
Mr. John K. Tiene, VP of Strategic Business Initiatives & Corporate Relations
Devon's program was one of the highest rated presentations from this year's conference. He has an incredible story to tell and our attendees really enjoyed it. I would highly recommend him to speak before any crowd!
Rebecca A. Swanick, Sr. Marketing Manager - User Conference, Rational Software Products, IBM Software Group
Devon's inspirational story of personal triumph and testament on the values of leadership were a perfect fit for our organization. His professionalism, positive attitude and friendliness served us well.
Tom McLennan, Oregon Trail Council - Boy Scouts of America
We had the pleasure of working with Devon Harris for our annual meeting of the top 50 executives in our company. Devon's keynote address provided the ultimate emotional and motivational send-off for our team members.
Tom Norton, Sr. Vice President of Human Resources - American Golf Corporation
You built bridges between our project and the problems we face, by showing our team how you handled similar challenges and how determination and goal setting were very instrumental in the creation of success.
Rob Jansen - Shell
Our attendees really appreciated hearing Devon's story. He took a personal interest in our event and was willing to customize his remarks to fit our audience, spending time getting to know our attendees and our organization better.
Samantha Morgan, Director, Employee Communications - Charles Schwab & Co., Inc.
Devon did a great job speaking to our group. He was a joy to work with, personable, had the right kind of energy and delivery of his speech was right on. The group loved him!
Elizabeth Ann Poore - National Association of College and University Food Service
Our Lady of Fatima School had the privilege of hosting Devon Harris as our keynote speaker for our bi-annual Symposium. Mr. Harris did a fabulous job of capturing the spirit of the event and played and integral part in its success.
Lois Sellers, Assistant Principal for Curriculum - Our Lady Of Fatima School, Lafayette, LA
We would like to thank you for taking the time to come and speak. We really enjoyed having you with us, and we highly appreciate your sharing your life experiences with us.
Takirah Covert - Union County Vocational-Technical Schools
Thank you for your inspiring contribution and participation at the Annual Suffolk County Executive's Unity Day celebration. Your inspirational message was insightful, focused and passionate on establishing parameters and goals.
Steve Levy - Suffolk County Executive, New York
Devon Harris was not only a wonderful person but an incredible speaker. He mixed humor, humbleness and inspiration all together - which made for a perfect combination for the audience. He spoke from the heart, and left the audience wanting more. Devon was a great choice for our event.
Jon Paradise, Vice President of Public Affairs and Engagement - Maine Credit Union League
Devon Harris was the most well-prepared keynote speaker I have ever had the pleasure of working with for a user conference. He truly took the time to understand what our business and event were about, and he included many relevant details from our prep call into his highly engaging talk. His keynote was the perfect ending to our busy conference, and he kept everyone laughing. In addition, our customers rated his keynote as excellent across the board in our post-event survey. Thank you, Devon!
Crownpeak
Excellent, motivational presentation. Entertaining and humorous. Devon Harris came across as friendly, approachable, non-biased, and energetic. Your valuable contribution helped make our conference a success!
Kimberly S. Cobb, Director of Human Resources - Alabama Community College System Human Resources Management Association
I would like to express our appreciation for your very informative and entertaining presentation. Your presentation was excellent and we received such positive feedback. We look forward to welcoming you back to speak in the future.
Shain Wilson, Director of Human Resources - Alabama Community College System of Alabama
When looking for a motivational speaker for our first virtual company meeting I have to say I was feeling slightly nervous about how a motivational speaker would work virtually - would we get the same presence, excitement and inspiration that we get from speakers when we meet in person? With Devon Harris I have to say the answer is YES! Devon is a fantastic speaker - his talk was motivating, engaging and humorous and most of all it was memorable. His story is truly inspirational and the life lessons pulled through from his experience have stayed with us beyond the presentation. In fact he is often quoted by employees in other meetings since we heard him speak in January! The feedback from those that heard his presentation was amazing and I would absolutely recommend him to speak at any company engagement.
Events Director - Pharma Company