Dr. Darryl Adams
TLC Philosophy of (Trust, Love and Collaboration) - Obama named Top 100 Innovative Superintendent in US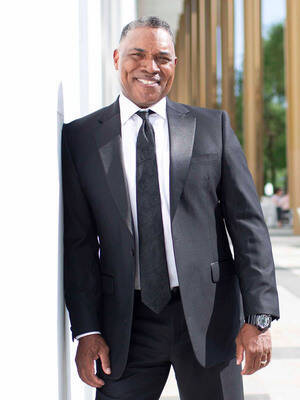 Dr. Darryl Adams Bio
Award-Winning Superintendent, Speaker, Servant Leader and Innovator of "Leave No Child Offline" and "WIFI-On-Wheels", Teacher of the Year, Superintendent of the Year Finalist, Effective Education and Technology Advocate
Dr. Darryl Adams is an internationally known school superintendent, technology/servant leadership and evangelist that was recognized by President Obama as one of the Top 100 Innovative Superintendents in the Nation. He has been honored as one of the most influential voices in Education by Tech & Learning Magazine, the Center for Digital Education, iNACOL and The Journal. In 1998, Dr.
Adams was named Los Angeles County Teacher of the Year and was recently honored as a NASS Superintendent of the Year Finalist! His district, one of the poorest in the nation, was the first in the nation to provide an iPad for all of his 20,000 students. In 2014, he was recognized by President Barack Obama as the Creator of the Wifi-on-Wheels Initiative. This initiative was the first in the nation to put WIFI routers on school buses. This connected students to the internet on their way to and from school and when the buses were not in use, they were parked at night in rural neighborhoods and trailer parks that had no internet connectivity! He has presented at The White House on issues of technology in school and connectivity for underserved communities. His district was selected as one of four featured districts across the country at the Digital Learning Day hosted by the Alliance for Excellent Education.
Dr. Adams serves on several non-profit boards and is a consultant for statewide and nationwide technology projects. He has published numerous articles and is seen as an expert on school innovation, trust, leadership, collaboration, social justice and technology. Dr. Adams has appeared on The CBS Evening News with Scott Pelley, CNN, Fox, ABC News, NPR and the PBS NewsHour!