Tim Tebow
ESPN Analyst, Heisman Trophy winner and NCAA National Football Champion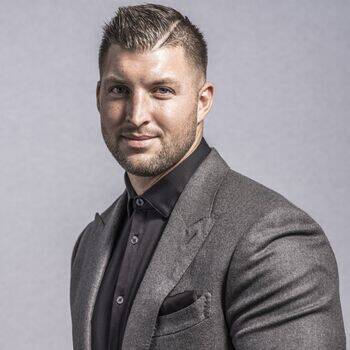 Tim Tebow Text Reviews
WOW! He covered everything beautifully and we got to know a little bit more about him. He was attentive to the message from our MC, and all who were called to the stage for a few words, and brought these messages into his own talk. Tim, you are an awesome young man, no doubt you've made your parents proud. We have had many comments on the evening and bringing Tim Tebow in to speak - great choice at this needed time. He was perfect for our crowd - our largest ever!
Connie Euston, Banquet Co- Chair - Kansans for Life
Tim Tebow as our guest speaker for our Annual Spring Fundraising Banquet 2020. It was by far the best and biggest banquet to date. Tim arrived on time and was one of the most genuine and kindest people to work with. Anything we asked of him in the photo opportunities, he was willing to do and help in any way. As a matter of fact, there was a table of special needs children/adults and he wanted to meet with them and have his picture made with them. It was so touching to see him interact with those adults and Tim even signed a crown that one of the gentleman received at the local Night to Shine a few weeks before. At the end of Tim's presentation, he presented the Gospel Message of Jesus Christ and there were several people in the room that made the decision to follow Christ for the rest of their lives. You can not put a price on that type of moving of the Holy Spirit. This was definitely night that everyone in attendance will remember for a long time to come. It was an honor to meet Tim Tebow and I would recommend to anyone that they reserve him to speak at any event possible.
Bobby Willis - Valdosta FCA
We had a terrific with Tim Tebow. He was outstanding. Your agency did a great job working with us.
Doug Pratt - First Presbyterian, Bonita Springs, FL