Caroline Adams Miller
One of the world's leading experts on the science behind successful goal setting and the use of 'good grit' to achieve hard things.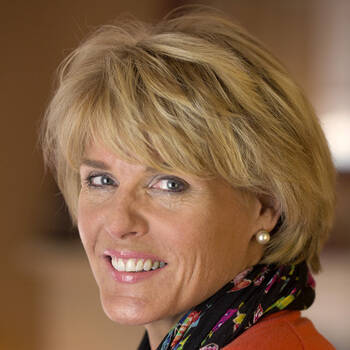 Caroline Adams Miller Text Reviews
Caroline was an amazing closing keynote speaker at our Educating for Resilience Conference! Her knowledge of grit and what fuels optimal performance is just phenomenal and she is able to dynamically connect with her audience in such an authentic way. Caroline weaves her unique insights with the latest research in psychology to deliver a highly valuable session. We liked her so much, we're having her back next June!
Louisa Jewell - Canadian Positive Psychology Association
Caroline is the perfect combination of research knowledge and a practical approach to positive psychology. All the class was thrilled!!!!
Enrique Tames, Head of the Institute of Wellbeing and Happiness - Universidad Tecmilenio
If you want to get-it-done and make-it-happen, then Caroline Miller is your go-to, must-see speaker. With solid rigorous science and moving stories that captivate and connect, both your heart and mind are engaged to reach your highest aspirations.
Megan McDonough, CEO - Wholebeing Institute
Caroline, you delivered what we asked for and more! We've had terrific feedback that you were easy to relate to, your stories were relevant, and the research gave your talk credibility for a high-powered audience. Everyone agreed they got rejuvenated, reignited and recommitted to setting and accomplishing meaningful goals.
Morgan Stanley
Caroline's cutting-edge insights on Grit and Goal Setting are awesome, and so needed in the business world now!
Deb Giffen, Director - The Wharton School, University of Pennsylvania
Caroline Adams Miller delivered a complete Grand Slam at our healthcare company's corporate conference. If you are looking for a keynote speaker who adds value, integrates academic research into practical applications, and moves people to action and change, you can't do any better than enlisting Caroline and her topic on Goal Setting and Authentic Grit.
Confluent Health
I was very fortunate to run across Caroline Miller in my search for an impactful speaker. Her focus on grit, goals, and creating your best life fit perfectly with our goals. Caroline was very positive, helpful and well prepared. Her speech was flawless and she gave our members "food" to take home and consider. We believe she inspired our members to be better women, moms, and contributors to their communities. I would highly recommend Caroline Miller to any type of business or non-profit that is looking to create a memorable and impactful event.
Young Men's Service League
I personally loved everything you shared. By the end, I was incredibly inspired and motivated. These kind of talks for me are life-changing. We received great comments and feedback from all attendees.
Women@Google Mexico
We have received excellent feedback and, in working with us, Caroline went 'above and beyond' in making the most of opportunities to connect with our students, staff and community. She is an inspiration.
Ravenswood School for Girls
"Getting Grit: How to Embed Passion, Persistence and Awe in your School," was quite compelling certainly resonated with our delegates Your engaging and dynamic keynote address was a wonderful way to kick off our conference.
Positive Education Schools Association Ltd
I'm so truly thankful to have been able to share her charismatic and inspirational keynote with our audience. She seamlessly engaged with everyone and left us all feeling inspired and more empowered to be better leaders in both our professional and personal lives.
Alannah Easby, Leader of LEAD - HR.com
Caroline was a powerhouse at our 2016 leadership conference. She challenged us to put the 'awe' back into awesome and how to use grit to accomplish our hard goals. Her message of 'you can't keep what you don't give away' inspired bold sharing and deep conversation from the audience and has continued to resonate throughout the organization beyond conference.
Ali Fillmore, Development Manager - lululemon athletica
Caroline's dynamism shines in the room without question, but her content shifts mindsets and helps make people an active participant in their professional experience. We are very grateful she shared her wisdom with our teams.
Vivian Wexler - Vantage Partners
Caroline had a cool way of speaking academically as well as using "hip" words and timely examples that everyone related to. We appreciated that she stuck around to sign books and mingle with our members long after her keynote.
Rory S. Coakley, President - Coakley Realty