Ben Nemtin
Set you Mindset and Commit to Big Goals & Live with Intention, Life Opens Up with Unending Possibilities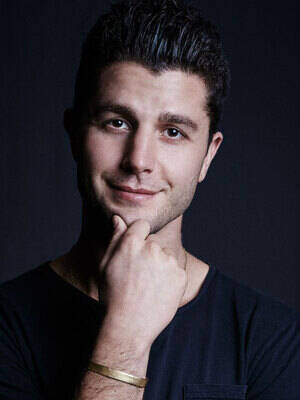 Ben Nemtin
Set you Mindset and Commit to Big Goals & Live with Intention, Life Opens Up with Unending Possibilities
Travels From
Victoria, BC
About Ben Nemtin
Ben Nemtin is the #1 New York Times bestselling author of What Do You Want to Do Before You Die? and The Bucket List Journal. Ben is ranked the #2 Motivational Speaker in the World by Global Gurus and starred in The Buried Life, MTV's highest rated show on iTunes and Amazon. As the co-founder of The Buried Life movement, Ben's message of radical possibility has been featured on The Today Show, The Oprah Winfrey Show, CNN, FOX, and NBC News. President Obama called Ben and The Buried Life ...
I like the way you help folks. Keep doing what you're doing.
Barack Obama - 44th President of the United States
I think what you're doing is truly so inspiring.
Oprah Winfrey
Ben's storytelling and ability to connect with our audience was apparent from the minute he greeted our participants. Listening to his story made everyone in the room feel empowered and motivated to make a difference and be courageous in their own lives. Ben helped us realize that we as individuals and leaders have the ability to make a real impact and empower others to make that same impact not only professionally but in our everyday lives. The message was perfectly aligned with our theme and I had so many attendees say it was the best event to date. I would highly recommend Ben to anyone wanting to add that "WOW" factor to their event.
HR Strategic Advisor - FedEx Services
Ben lit a fire in our team! The room was buzzing with energy. There was a lasting impact on our team and our leaders left ready to tackle our biggest goals yet. He made our team feel unstoppable.
Katie Potgiesser Sr Consultant - Kellogg Company
Ben has a gift!
Our team was so inspired and talked about the impact for days. We know that the ripple effect is real when we dream of what is possible and serve others along the way to create a more beautiful life.
Katherine Twells Servant Leader - The Coca-Cola Company
Ben's keynote & Bucket List Journal inspired, reenergized and motivated the team in an outstanding way. His personal story combined with actionable resources was the perfect combination.
Lina Brouneu Director of Films Acquisitions - Netflix
20 speaker reviews for Ben Nemtin View All