Ainsley Earhardt
Co-Host of Fox News Channel's Fox & Friends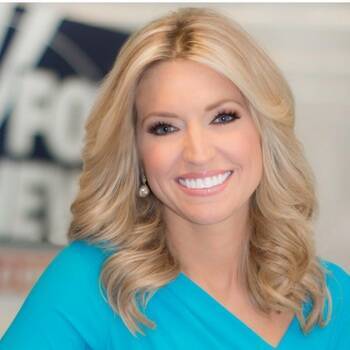 Ainsley Earhardt Bio
Ainsley Earhardt currently serves a co-host of Fox News Channel's (FNC) Fox & Friends (weekdays 6-9AM/ET) alongside Steve Doocy and Brian Kilmeade. She joined the network in 2007 and is based in New York.
Most recently, Earhardt served as a co-host of Fox & Friends First (weekdays 5-6AM/ET) where she provided live coverage of Pope Francis' most recent visit to New York City, the shooting at the Emanuel African Methodist Episcopal Church in Charleston, SC and the Fort Hood military base massacre. She also reported on the mass shootings at two of Chattanooga, Tennessee's military installations, the Veterans Affairs hospital investigation in Phoenix, AZ and the murder investigation involving the New England Patriot's Aaron Hernandez.

Earhardt grew up in South Carolina and graduated from the University of South Carolina with top honors. She first attended Florida State University (FSU) on a leadership and academic scholarship, majoring in biology where she served the student body as a senator in student government. She then transferred to the University of South Carolina (USC) after deciding to pursue a degree in journalism. Earhardt received an academic scholarship at USC and graduated with a bachelor of arts degree (B.A.) in Journalism. She was a member of the Alpha Delta Pi sorority, inducted into 4 honor societies, won the Caroliniana Creed Award based on character, leadership and personality and was elected to the University's Homecoming Court. Earhardt was awarded the University of South Carolina's Young Alumni Award and named the School of Journalism and Mass Communication's 2007 "Outstanding Young Alumna". She is actively involved in fundraising for the new journalism school at the University of South Carolina and is a proud donor.

Viewers voted Earhardt "Best Personality of the Year" by Columbia Metropolitan Magazine while being the morning news anchor for WLTX-News 19, the local CBS station in Columbia, South Carolina. Both shows she anchored, morning and noon, were rated #1 at WLTX and Earhardt won a South Carolina Star Award for her breaking news coverage. Earhardt traveled to New York City to cover South Carolina middle school students donating nearly half a million dollars to firefighters after the September 11 attacks. The money was raised to buy a new fire truck to replace one lost at the World Trade Center site.

In 2005, Earhardt moved to San Antonio, Texas and anchored weekday newscasts of KENS-TV Eyewitness News This Morning (5 AM-7:30 AM) and Eyewitness News at Noon (both #1 rated shows). She completed the Austin, Texas half-marathon.

In 2007, Earhardt moved to New York City and began working at the FOX News Channel. She has covered a myriad of breaking news stories, including presidential elections, the Pope's visit to NYC, broke the VA hospital investigation in Phoenix, covered Spring Break in Panama City, Florida (her coverage on "Hannity" forced the city council to change drinking laws and make the beaches safer), traveled to Cleveland to cover the arrest of Ariel Castro after he was accused of holding 3 women hostage in his basement for 10 years, the Time's Square New Year's Eve celebrations, went skydiving with the U.S. Army's Golden Knights, skydiving with the U.S. Air Force Thunderbirds and flew in an F-16 with the Air Force Academy.

Earhardt is married to Will Proctor, a former professional football player and former starting quarterback at Clemson University. Proctor now works in New York City in the investment business.