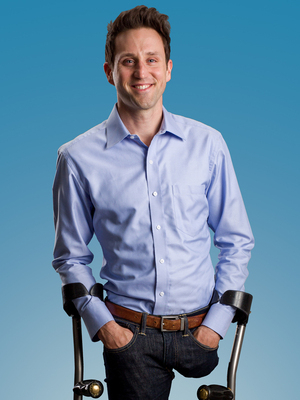 This week I'm doing 3 speeches in 3 countries Usually I travel to speeches by myself, but Ashley came along this time--both because of the beautiful locations and to help with driving through Canada on very little sleep Pictured above: In the Canadian Rockies on Tuesday, then in the Bahamas on Wednesday. Before that I spoke at an event in San Francisco on Monday Fortunately, I'm not usually this busy. But even during a crazy week like this, I feel grateful for the work and for the opportunity to visit new ...
Two entrepreneurs share content creation tips and practical ways creators can earn revenue from their work.
I have a love/hate relationship with social media. There are parts of it I love, like the amount of creative opportunities it offers us that no other generation ever had access to. That I can work full time as an author is directly related to the chance social media gave me to build a business. (My current favorite platform is Instagram. You should follow me!) I will forever be grateful to social media for what it has done for my career. There are parts of it I hate though, like the vortex of negativity ...
John O'Leary celebrates National Sibling's Day on the Live Inspired Podcast.Join me every Monday for a quick burst of inspiration on our "Monday Moments" segments.Today, we celebrate National Sibling's Day this Wednesday, April 10 by reaching out to your sibling (or chosen sibling!) to share your love + gratitude for them.Listen to Live Inspired Podcast ep. #88 to hear the heroic acts of my siblings that saved my life 30 years ago and three ways to enhance your adult ...
John O'Leary shares the story of Sparsh Shah, an inspirational young man who models overcoming challenge and being "not afraid."Each day holds a surprise. But only if we expect it can we see, hear, or feel it… Let's not be afraid to receive each day's surprise, whether it comes… as sorrow or as joy. It will open a new place in our hearts… where we can welcome new friends and celebrate more fully our shared humanity. – Henri Nouwen [Tweet this.] | [Share on Facebook.]I'd just finished speaking at a financial service ...
Meet Our Guest ADAM WELCOME is a former teacher, principal, and director of innovation. He's also a recognized education leader, speaker, and the author ofKids Deserve ItandRun Like a Pirate. Follow Adam on Twitter and Instagram@MrAdamWelcome. Disappointed by Mediocrity Adam recalls the year that his professional enthusiasm was dampened by colleagues who preferred to stay with conventional practices and were reluctant to support new initiatives. Students were disengaged, there was little ...
Peeking into a typical kindergarten classroom, you'll see a vibrant setting of creativity and collaboration. The colorful setting is messy, playful, and expressive as students smile with delight and their imaginations run free. Unfortunately, the creative wonder we experience as small children often declines in each subsequent year as we confront the world's difficulties. It's been said that we begin school with a colorful set of crayons, but we graduate with a single, blue ballpoint pen. Ironically, it is the ...
Jessica Cabeen joins Tom for this #LeadershipMinute. I'll start by saying I feel like a complete hypocrite writing this blog post as balance in life is something with which I struggle. There. I said it. I struggle to maintain a proper balance in life. I absolutely love the work that I'm blessed to do. Although the travel can be exhausting, there's not a place that I go where I don't connect with amazing people. I love our work at Future Ready Schools. I fully believe in our mission at the Alliance for ...
Imagine you are looking through the narrow end of a paper cone. The space in the cone closest to your eye is very narrow and closed in, but the farther out into the cone you look the wider it becomes.Listen to the podcast minisode here.Futurists use a tool/technique called the cone of possibilities to explore different scenarios that could happen in the future. The narrow part of the cone is the near future, it includes present time and a couple of months or even a couple of years into the future. But as the cone ...
You would think with the resume of Joe Biden you'd be embraced by your own party. This ain't Joe's party any longer. It's the party of Alexandria Ocasio-Cortez and Ilhan Omar. You wonder why the Democrats aren't rushing to Joe's defense over accusations of inappropriate touching? The truth is the socialist wing of the Democrat Party is behind the political assassination of Joe Biden.Anvil Joe is what we call him. He's so gaffe-prone that he tends to be an anvil tied to the neck of the ...