Yvonne Adele
Yvonne Adele - Ms Megabyte - true multi-media personalities!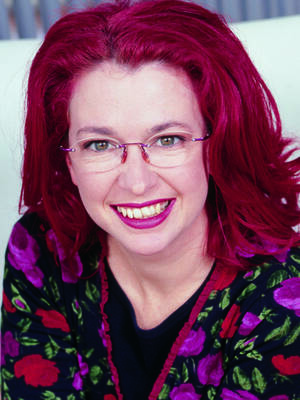 Yvonne Adele Text Reviews
Just a quick email to say a big thank you for an absolutely fantastic key note speech at our breakfast! I have received quite allot of feedback--everyone thought you were great! May see the sales in Women's Day increase as a result!!
Natalie Kelaart - National Australia Bank
Thank you for helping to make our "CyberDay" such a great success. Your upbeat tutorials were both entertaining and informative, and we received a great deal of highly positive feedback from all participants on the day.
Robert Gibbs, General Manager PR - Telstra
Ms Megabyte delivered a humorous & enlightening presentation to a diverse audience of accomplished computer users & those technologically challenged. She held their attention for 2 hours & successfully converted the sceptics. We all learned something.
Judith Hanke, Acting Regional Director - Eastern Metro Region, Dept Education & Training
. . . It captivated the audience for a full two hours, and this clearly shows the value of the presentation. Your individual style and sense of theatre captured everyone's attention and we were all "shortcut" experts the next day.
Robert Richards and Zoran Mustac - Arnotts and Countrywide
A huge thank you for the fantastic speech you gave at Youth Jobs Day. We have had so much feedback already from the kids due to your enthusiastic, motivating and interesting speech. You are a very special lady with a very special gift for communication.
Ro and Max Markson - Markson Sparks
After the previous night's activities, it was excellent to get everyone back up to speed and wake them up with Ms Megabyte! I would highly recommend a similar seminar to start off the day next year.
Andrew Green - Woolworths
The event was a great success and enjoyed immensely by all. I appreciate the enthusiastic contribution you displayed. Your willingness to impart your knowledge and business expertise with the audience was indeed generous.
Lynette Palmen AM, Founder & MD - Women's Network Australia
With humour, audience rapport & amazing technological expertise, Mega informed & entertained the group for over an hour. Ms Megabyte's ability to respond to the initial contractual briefing & to engage the group in effective computer use was brilliant!
Mary Amohanga - Association of Women Educators
A wonderfully entertaining speech. Friendly and cheeky . . . with relevant and informative stories --a crucial component for keeping audiences captivated. Valuable IT hints and tips that will take these bright young things very far indeed.
Karen Young, Manager, Industry Projects - Monash University - Faculty of IT
Your presentation was informative, vibrant and funny. The tips within your talk had people calling me the next day letting me know how handy they were and others wanted to pass on that they had cleared out their email inbox as you instructed!
Kim.Hurst-Meyers - Dept of Finance and Administration, Canberra
I'm a 23yr old single mum who's been working as a receptionist for the past two years. After seeing you, I decided to plan my career and guess what--I am now working as an Employment Consultant at Employment National in Perth.
Samantha Spain, student - Youth Jobs Day
Content was terrific, well pitched, great delivery, wonderful sense of humor, great role model for young women, you looked fantastic, powerpoint presentation impressive, overall thoroughly impressed and MS Megabyte rated as the conference highlight.
Suzanne McClelland - CommNet via Saxtons
Our Rotary Club felt a breath of fresh air as vivacious and colourful Ms Megabyte traced the rapid movement in computers from the electric typewriter to current technology.
Mr Gurry - Rotary
Her flaming hair is only a minute indication of the determination oozing from her every pore. She is a very entertaining guest speaker who is living The Dream--if you have the Talent, Drive and Determination, anything is possible.
Jenny Barbour - Women Are IT