Yossi Ghinsberg
One of the Greatest Survival Stories of Our Time; "Jungle" movie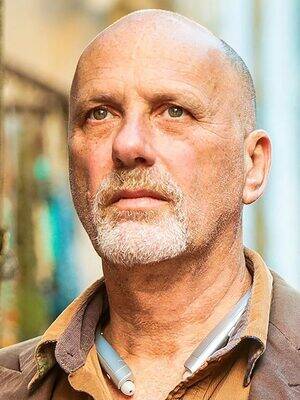 Yossi Ghinsberg Text Reviews
Yossi is a bodhisattva--calm, serene and compassionate. . . . He weaves the lessons in with the narrative to create an amazing presentation and exudes real wisdom and grace. I can say honestly he was the fan favorite.
Heather Sullivan-Bodington - Polaris Media
Many people have commented to me how moved they were by Yossi's amazing story, by his honesty, humility and the courage he showed us by sharing the impact his journey had on him as a human being. I am honored to have met Yossi and to have had the privilege of creating, through him, a profound experience for the audience.
Anne Manson - CI Investments
Wow! Yossi's talk was full of suspense, inspiration and elicited many emotions from our audience.
Sharon Carty - Mackenzie Financial
Yossi was the highest-rated speaker at the Auckland Symposium, with an incredible 6.6 rating on CoreNet's standard seven-point scale.
Peter Chenoweth - CoreNet Global
His simplicity in recounting his Amazon tales sans a fraction of fear, speaking straight from his heart left everyone humbled for this great gift bestowed on us called 'life'. The Aditya Birla Group is grateful to Yossi Ghinsberg for having eloquently shared his survival experiences from the Amazon and thereby making a positive difference to each individual present that day, in encouraging them to treasure their special life. He was truly moving and yet inspirational.
Dr. Santrupt B Misra - Aditya Birla Management Corporation Pvt. Ltd.
Yossi's sharing of his life story was a subtle way of looking ourselves at a mirror, introspecting right down to the very fabric of our personality that's often clouded by volumes, numbers and profits, and rediscover those champion genes flowing in our blood. Really going back to the basics and what is essential.
Mars Sota Jr. - BP Asia Pacific
Yossi's presentation skill is supreme; he was dynamic and highly entertaining. He is a gifted teacher with a unique ability to present complex ideas in conceivable words.
Bert Wong - Fuji Xerox
You are in a class of your own. As your story is about courage, loss and challenges, it transported the listeners into your experiences, into your awakening. Your delivery was powerful and effective and you certainly had the audience with you all the way, conquered, inspired and enriched.
Sandra Passaro - Gold Coast Tourism Bureau
Thank you for taking the time to visit us and sharing with us of yourself and your experiences. It is indeed your Gift to do so and you do it very well. You are inspiring, and have made a big impression on my family and I thank you for that.
Ziad Makkawi - Algebra Capital
Your story of survival against all odds was both fascinating and challenging. You possess the extremely rare gift of a great storyteller with the ability to create word pictures which capture the imagination of an audience and take them on a journey with you.
Wendy Hand - AMP Wealth Management Australia
Yossi is an amazing story teller. The way he tells his story of survival and describes the details of his and his companion's plight makes you feel that you are right in the midst of it.
Erika Gisser - Bristol-Myers Squibb Pharmaceuticals Australia
It was amazing to all who attended how you could weave a gripping tale of survival in the Amazon, against all odds, into a story that had practical application in all of our lives. Somehow you were able to open up the complexities of the universe with all its wonders and its bounty and demonstrate how it has a positive message that correlates to the most common levels of everyday life.
Jerry C. Meyer - Aegis Living