Travis Rosen
Star contestant on American Ninja Warrior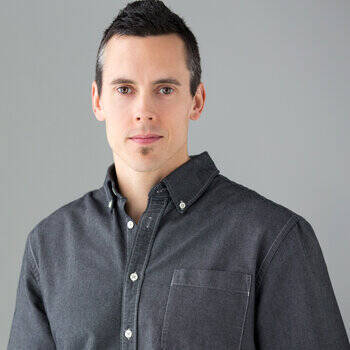 Travis Rosen Bio
Travis Rosen knows obstacles. A dad, pro ninja, and public speaker, he's a 10-time competitor on NBC's formidable obstacle course competition, American Ninja Warrior. A former All American gymnast, Rosen announced his ninja retirement after 2019's season 11 at the age of 44, to focus on family and his growing role as a speaker and author. Forging a career defined by overcoming the seemingly impossible, earning nicknames such as The Ageless Wonder and Mr. Consistency, his ability to inspire is more poignant than ever after making a miraculous comeback from what is arguably the worst injury in the history of ANW.
His storied career began in season two, with highlights including being the first American to climb stage four's 77 ft tower on USA vs The World, being a two-time member of Team USA--as well as captain--and being a top-five finisher, five times. Additionally, Rosen is the only American with nine consecutive trips to the ANW Finals with six stage one clears, and the only ninja who has 10 straight qualifying round course completions. He has also enjoyed success as team captain of runner-up Team TNT on seasons one and two of the ANW: Ninja vs Ninja/Team Ninja Warrior series.
Season 11 of American Ninja Warrior--his 10th--presented Rosen with his biggest obstacle to date: overcoming the severely broken ankle he sustained crash landing during the previous season's National Finals. Receiving news post-surgery that he may never run again, Rosen became a walking miracle--not only healing better than expected, but making his return to ninja action less than one year after his horrific injury and qualifying for his ninth-straight National Finals!
When he's not training or spending time with family, Rosen's living is as diverse as the obstacles he faces. He is a speaker with Nashville-based Premiere Speakers Bureau and GOA Speakers, where his impact has been immediate and far-reaching. Speaking on subjects he's lived and breathed such as believing for the impossible, overcoming adversity, embracing your ability to impact others, faith, teamwork, and the value of perseverance and proper preparation, his message has reached tens of thousands. "Every time I stepped onto a Ninja course I had the privilege to inspire others. Speaking and writing give me even more exciting avenues to call upon this roller-coaster ninja journey, in order to help encourage and influence others. To know I can provide the spark to an individual, group, or team to grow and become all they're meant to be it's so gratifying." He also spends time traversing the wiles of the stock market as a trader, and when able, enjoys training ninjas of the present--and future.
"My longevity and consistency on American Ninja Warrior, including the countless victories as well as defeats, have given me the unique opportunity to convey the importance of unrelenting persistence, teamwork, faith and hope, and never quitting in the midst of incredible adversity. It's a message that resonates because that's life."
Originally hailing from Eugene, OR., Rosen served as co-captain on the University of Iowa's men's gymnastics team, where he graduated with a major in Japanese--including a one year study abroad in Japan, at Tsukuba University ( ). He currently resides in Franklin, TN., where his wife, three kids, and faith in Jesus continue to motivate him to use all that the Lord's done in his life to help others.