Currently trending speakers
About
Presentations Climate Change and the Meaning of Life When modern humans evolved from Neanderthals, they started doing some very weird things. For...
Business Communication Expert, Women's Leadership Speaker, Informative, Motivational AND Funny!
Latest Review
"Colette Carlson was the most entertaining speaker our community has had in years! Not only did she teach our team new and fresh techniques, but ...
Award-winning journalist and entrepreneur, Author of Smartcuts, The Storytelling Edge, Innovation, teamwork, and storytelling expert
Latest Review
THEY WERE LITERALLY COMING OVER TO ME BEFORE HE WAS FINISHED WITH JAWS DROPPED.
3 Reviews
Educator, Catalyst for Change, Author and Keynote Speaker
Latest Review
My team was amazed by how much they learned. What made the session great was your connection, energy and focus on the audience. You know it is a ...
Become the #1 choice in crowded markets
Latest Review
Your message was spot on and I continue to hear from the sales force about how much they enjoyed it. I loved looking out into the crowd and ...
Olympic Gold Medalist turned Adventurer and Engineer
About
An Olympic Gold Medalist turned Adventurer and Engineer, Adam is a Social Entrepreneur who walks the talk. Adam is Chair the Board of Directors of...
3 Videos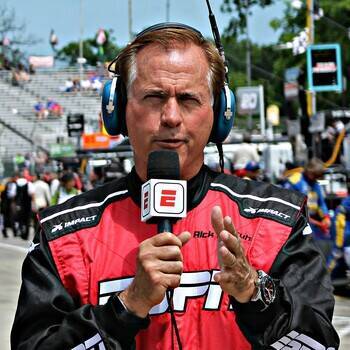 Latest Review
Rick DeBruhl's insightful talk on 'Winning Communications' will leave audiences inspired and ready to implement communication best practices ...
Successful business owner and veteran basketball performance coach
About
Alan Stein, Jr. teaches proven strategies to create winning mindsets, rituals, and routines during the unseen hours. As a successful business owner...
Influential Conservative Political Commentator, Founder/President of Turning Point USA
About
Charlie Kirk is the Founder and President of Turning Point USA, a national student movement dedicated to identifying, organizing, and empowering...
1 Video
Founder The C.A.R.E. Effect Movement, Cancer Survivor, Author, & Adjunct Professor, Keynote and TED Speaker
Latest Review
Lee was brilliant. My nurses were deeply moved inspired and learned practical ways to provide even more compassionate care for their patients and ...
Founder and Chairman of Focus 3
About
Tim Kight is Founder and Chairman of Focus 3, a firm whose mission is to help companies around the world align the power of leadership, culture,...
4 Videos
Championing Humans in the Learning-Centric Future of Work
Latest Review
Heather 'simplifies the complex' with stories and visuals delivered in an authentic and engaging manner that leave people feeling empowered to ...
Latest Review
Inspiring and empowering, Ravi's perspective on millennials highlighted his abilities as a storyteller and an entrepreneur. By illuminating many ...
Helping companies stand out from the noice and engage customers
About
Brian Fanzo is a keynote speaker who inspires, motivates, and educates businesses on how to leverage emerging technologies and digital marketing -...
1 Video