Ryan McCarty
Co-Founder of Culture of Good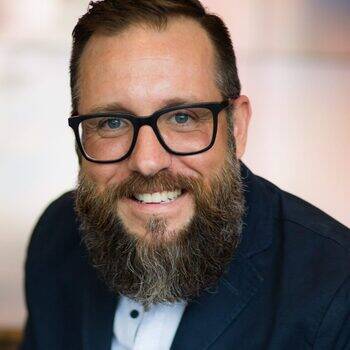 Ryan McCarty Text Reviews
Ryan McCarty is a fantastic public speaker that is able to engage audiences with talking points that are relatable and impactful. As the speaker at our annual employee kick-off, Ryan presented in a manner that empowered our team and emphasized our brand principles and overall guiding mission. I would highly recommend Ryan to anyone looking for a speaker that is genuine, approachable and relatable.
Dustin Haynes, PR Officer - Heritage Trust FCU
Ryan isn't just one of the best speakers I've seen, he is also one of the most passionate and genuine human beings. Few people grasp the essence of culture the way he does and even less have his ability to inspire an audience. He is a masterful storyteller who helps others make a difference.
John Brewer, Principal and Facilitator - Idea Exchange
Authentic, compassionate and energetic Ryan McCarty joined the stage at the Small Giants Summit in Denver to share his personal story with authenticity and genuineness. He described how his childhood & upbringing taught him to bring love, kindness & a sense of community into the workplace, building what's now called a Culture of Good.
Hamsa Daher, Executive Director - Small Giants Community
One of the most life-changing moments of my life was going to hear Ryan McCarty speak. Ryan's experiences as a preacher and leader show powerful people how to harness the heart to lift organizations and provide a sustainable system that builds the community. Ryan is in my thoughts each day as I develop my organization to not only provide great products but also show we have a soul.
John Stagge, President - Scooch
We thoroughly enjoyed having Ryan speak at our 2018 NCSHRM conference. He gave away signed books which was a big deal. The attendees of his session all indicated his presentation was very informative and that Ryan was an excellent presenter. We would be glad to invite him back to present again.
Sheila Colosimo, Regional Director - NCSHRM
Watching the facial expressions of those in the room, it was easy to see that Ryan's stories and examples truly hit home. His presentation style is engaging, memorable, and leaves us wanting to hear more.
Laurie Roach, Manager of Customer Relations - PNM
As a conference producer, I hear so many presenters, I often get numb to the narratives. However, Ryan is one speaker that stands out above the rest. I love his message, his passion and his commitment. He is truly dedicated to spreading a culture of good. I believe our senior exec group really identified with Ryan's talk and were left inspired to build a culture where their employees can create success for the company and the community at the same time. I could listen to Ryan for hours!
Dennis McGarry, Director of Programming - NTCA-The Rural Broadband Association