Randall Munson
Experience the Magic of an Extraordinary Speaker!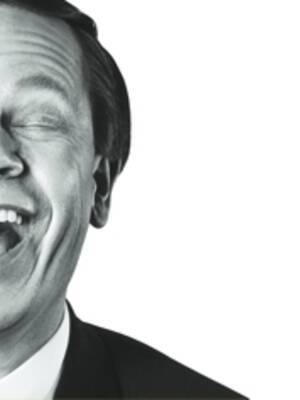 Randall Munson Bio
Imagine an exciting motivational speaker who's also an experienced business executive, a best selling author, an insightful teacher, and a gifted entertainer.
Randall Munson is all of these, delivering messages that have a powerful impact on audiences and organizations around the world.



AS A SPEAKER:

Randall's refreshing blend of inspiration and practicality, delivered with warmth, humor, and magic, has propelled him into the Speaker Excellence Hall of Fame. He has been the double-header presenter with such international figures as former IBM CEO Lou Gerstner and Prime Minister of Israel, and Nobel Laureate, Shimon Peres. Not surprisingly, Randall has garnered more than 60 Gold Medals in the International Speaker Olympics, an IBM Award for Excellence, and is listed in the Who's Who of Professional Speaking. Randall Munson has been named a Certified Speaking Professional, a designation held by less than 7% of the professional speakers in the world. He has been selected as one of "The Worlds Greatest Business Mentors."
SHARE, the world's first organization of computing professionals, presented Randall Munson with the first Distinguished Speaker award at their international conference. Martin Timmerman, president of SHARE, presented Mr. Munson with the Distinguished Speaker Award at the SHARE Conference at the San Jose Marriott in recognition of the exceptional quality of his presentations.
Randall Munson is the first person in the 53-year history of the organization to receive this prestigious award.



AS AN EXECUTIVE:

Randall Munson's messages stem from a rock solid business foundation: an IBM Program Manager and an IBM Executive Advocate, who for 20 years led IBM research and development projects with management, architecture, education, and marketing responsibilities. He also held an executive position for 5 years in the Target Corporation. Randall is listed in the International Who's Who of Professionals. He is former Vice President of Administration at Crossroads College and member of the Board of Directors of Hope International University. He is the founder and president of Creatively Speaking .



AS AN AUTHOR:

Randall shares his insights from platforms around the world and through his writing. He is the author or co-author of eleven books including the best seller Create The Business Breakthrough You Want. He has published numerous articles and a monthly column in an international technology magazine. His acclaimed electronic magazine, Business Magic!, is read monthly by thousands of decision makers in all 50 states and more than 70 countries around the world who want to experience the magic of Randall Munson's creative insights, ideas and inspirations for themselves and their businesses.



AS A TEACHER:

Randall Munson has a flair for conveying complex, abstract, and potentially dry information in a manner that's engaging and easy for the audience to grasp. Called by many a "natural teacher," he has designed and taught courses for the IBM Advanced Business Institute, IBM Management and Technical Education, Asia/Pacific Marketing Masters Seminars, and serves as an Adjunct Professor at the University of Wisconsin. Randall holds an M.S. degree in Computer and Information Science from the University of Minnesota.



AS AN ENTERRAINER:

Randall's talents as a master magician, ventriloquist, and clown contribute to his ability to captivate audiences in many settings -- including Bally's Grand in Las Vegas, Walt Disney World and The White House. He has made televised appearances internationally and has been featured on major network broadcasts. Randall has won 30 national and international entertainment awards, and his likeness has been displayed in the Clown Hall of Fame and the Smithsonian Institution.



Randall Munson turns your team into a dream team: enthusiastic, confident, and ready to initiate. He delivers a refreshing blend of inspiration and practicality, sparkling with warmth, humor, and magic. Randall gets audiences worldwide to laugh, think out-of-the-box, and become more productive.



Whether he's speaking in Paris, Sao Paulo, Beijing, or Tokyo, Randall's warmth and humanity require no translation at all.