Peter Hillary
Mountain Climber and Adventurer, Son of Sir Edmund Hillary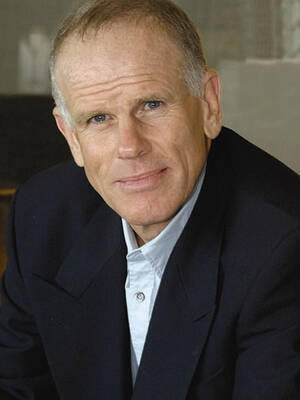 Peter Hillary Text Reviews
Peter Hillary's presentation was one of the most polished and interesting I have ever witnessed here. He could be a stand-up comic; his dry wit, delivery and tales make him a great presenter.
Susan Norton, Direction of National Geographic's Museum - Explorers Hall
Words won't even come close to expressing how deeply you touched the lives of 155 people at our company kick-off. You intertwined humour into the tales of your expeditions, and your descriptions made us feel as though we were right there with you.
Michelle Neddo - Top Layer Networks
"I've been involved in about 40 events with speakers, everyone from Margaret Thatcher to Norman Schwarzkopf and your husband ranks right up there with the best of them. He was EXCELLENT! The people loved him. We had over 1000 people attend the 2 days of events and all I heard was how wonderful he was. Thank you for sharing him with us!"
Patty McClimans - Conservancy of SW Florida
He was without question one of the two best speakers we have ever had the pleasure of hosting during the sixteen years our Society has been meeting, the other being Peter's father--Sir Edmund Hillary.
Morton H. Sigel, Chairman - Worcester Foundation, USA
Peter Hillary is an extraordinary person and a delight for anyone to meet. He appeals to all age groups and backgrounds. He is a gentleman and a humanitarian, along with being an extraordinary explorer. Peter Hillary is the real thing.
Dr. Thoru Pederson, Director - Worcester Foundation for Biomedical Research, Massachusetts
Thank you so much for the excellent speech and your generosity of time and spirit. You were a wonderful success for us. Please let me know if we can ever serve as a reference or provide other groups with reports of the fantastic job you did for us.
Scott Jordan - International Golden Key Honour Society
The strong personal examples that you highlighted during your presentation were not only inspiring, but gave us valuable metaphors which we referred to during the balance of the conference.
Roger Saillant, CEO - Plug Power
Working with Peter on this event was certainly a pleasure because he is gracious and cooperative. He delivered the presentation twice because the theater could not accommodate in one sitting all of the attendees who were very anxious to see and hear him.
Joan Bar-Zeev - Lucent Technologies
I spoke to lots of people who told me that they were at the edge of their seats during your presentation. It was inspirational, funny, warm and most importantly relevant to what we are facing in our business.
Joseph Puthussery - Cisco Systems
Your description of your impressive adventures was an inspiration to all of us. The lessons you taught about how to face challenges will serve us all in good stead. Your remarks were delivered in an entertaining and humorous way that energized the group.
Helmut Porkert - Chevron Texaco