Michelle Poler
Founder of Hello Fears, a viral movement helping audiences worldwide build confidence, choose growth over comfort, and turn obstacles into opportunities.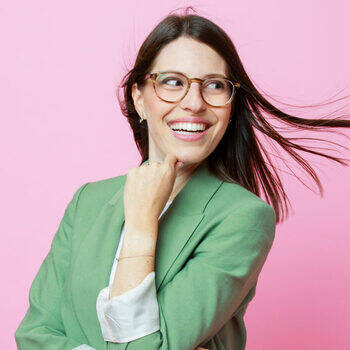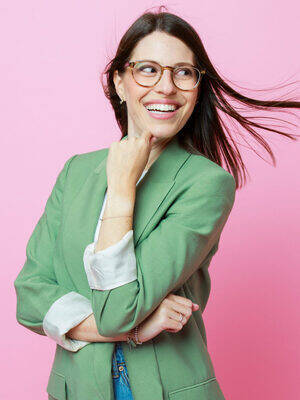 Michelle Poler Text Reviews
THANK YOU!!! You were an absolute joy to have at our event (GTO Symposium) and we are so grateful for your time and energy. The team is all buzzing about your talk and we've heard from SO many people that you were the highlight of their day. Thank you for being so incredible to work with.
LinkedIn
Michelle is an outstanding speaker. I'm extremely grateful we decided to bring her to our annual event. The audience loved her energy and authenticity. Her session scored a 4.8 (out of 5)! They could easily relate to her message in many levels and implement her advice and tools into their day to day. I would love to bring her to more of our events.
P&G
Michelle is a very authentic person. Her messages are serious, but conveyed in a very fun and interactive way. Everybody can relate to some of Michelle's fears and she energizes the audience. Everybody liked her performance, she was genuine and fun, and also very accommodating and nice as a person.
Guillaume Geslin, VP General Manager - Estee Lauder Travel Retail Americas
Michelle was dynamic, interactive and full of energy! Every single moment of her program was carefully crafted and kept the audience engaged and inspired to do more and fear less. She is a GEM!
Betsy Gandara, Marketing Manager - Youngevity
Finding a speaker who is entertaining, funny, relatable and that brings content that actually helps our Reps do a better job and be more confident is not easy. Michelle did every one of those things and we could have listened for another hour!
Jeremiah Bradley, Chairman of the Board - ZYIA Active
Michelle was a pure joy! Not only during her training and keynote, but also throughout the entire event process. Her message was very inspirational for our audience and she truly helped motivate our attendees into massive action.
Isagenix
"Michelle Poler spoke at our CreativeMornings event in December and we were quite lucky to have her. A natural presenter with great enthusiasm, Michelle shared the story behind her 100 Days Without Fear project and had our audience laughing, clapping and nodding their heads along with her. She successfully mastered the balance of humility and confidence and presented in a truly entertaining way."
Lisa Cifuentes - Creative Mornings NYC
It was absolutely wonderful meeting Michelle and having her present at TEDxHouston 2015.
Even though I knew she was nervous facing her 100th fear, you couldn't tell. Her talk was tremendously inspiring and insightfully put together. She was beyond well prepared and poured her heart into her message; everything you would ever want from a presenter. I honestly can't say enough good things about working with her as a TEDxHouston speaker. And, to top all of that off, her slides were beautiful. She's a talented designer and brave woman.I look forward to following along on all of Michelle's next adventures.
Kara Gray - TEDxHouston
It was inspiring to see Michelle's talk at Google NYC about her 100 Days Without Fear challenge. She made it relevant to our daily lives; the audience left feeling empowered to face their own fears. Her talent shines! Her energy and enthusiasm are undeniable, and her visual designs were absolutely flawless. People were thrilled not only by having Michelle at Google, but also for introducing her project into their lives. We look forward to having Michelle join us at many more events.
Sofia Altuna, Agency Partner - Google
We asked Michelle to speak from the main stage at WDS 2016, and our whole community loved her. As an organizer, I greatly appreciated her attention to detail in taking the time to understand the audience well in advance. I watched her talk from backstage and was impressed with both the authenticity as well as the energy she brought to the whole theater. If you get the chance to welcome her to your stage, don't hesitate!
Chris Guillebeau, Founder - World Domination Summit
SCAD was delighted to invite Michelle to address the SCAD Savannah Class of 2016 at the university's commencement ceremony. She is a charismatic and high energy speaker with a gift for establishing instant rapport with audiences. Her curiosity, intellect, and optimism are sure to inspire her listeners to expand their horizons, visualize their goals, and find happiness – exactly as she has done.
Paula Wallace, President and Founder - Savannah College of Art & Design
Michelle's presentation at Bayer provided insight to transform employees' mindset and perspective of their fears, from not even considering taking action to thinking "what's the best that can happen". Attendees also understood and learned the power in sharing their own experiences facing fears to encourage people around them to go after their own. Members of the WLI Workplace, Culture and Events team noted attendees continue to share their fear and new motivation to face it.
Melissa Mudge & La-Tonya Lawrence - Women's Leader Initiative, Bayer
The students loved Michelle's presentation! What a wonderful way to launch the school year. She is clearly a talented visual artist and a captivating storyteller. She was well prepared and a polished, but approachable presenter. Very effective. Many parents have emailed to let know that their daughters came home sharing what they learned from Michelle's message.
Nanci Kauffman, Head of School - Castilleja School