Joel McHale
Star of NBC's New Hit "Community" and Host of E!'s hilarious "The Soup"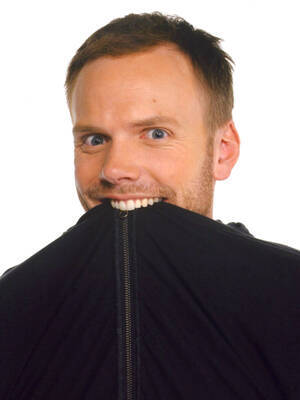 Joel McHale Bio
Hailing from Seattle, Washington, and blessed with Irish and Nordic ancestral roots, Joel McHale is one of the whitest and fairest television hosts around. Armed with sunscreen, his Mariners jersey and plenty of Wellbutrin, Joel became a cast member on Comedy Central's "Almost Live!" During that time he realized he should learn to act.
Following in the footsteps of Patrick Duffy, Joel managed to complete the Actor's Training Masters Program at The University of Washington in 2000 where he honed his acting craft, played video games incessantly and discovered his passion: single malt scotch.
Finally seeing his day in the sun, Joel took off for Southern California to pursue a future in acting and fell in love with Korean BBQ. Well satiated with marinated beef, he quickly landed roles on "Will and Grace" and "Oliver Beene" in addition to the features "Spider-Man 2", "The Onion Movie," "Lords of Dogtown" and "Mini's First Time."
Obsessed Joel McHale fans or bored people may also recognize him from the highly-acclaimed Burger King "Office" commercials which feature Joel as the office jerk.
As host of E!'s hilarious "The Soup" which satirizes pop culture and current events, Joel McHale brings his unique sense of humor and arresting personal style (compliments of the E! wardrobe guy) to viewers, as he counts down the most absurd, hysterical, wacky and surreal moments in the world of reality TV and celebrity each week, something to which he can definitely relate (other than the celebrity part).