Jeremy Anderson
Retention Reimagined: Taking Your Corporation's Culture to the Next Level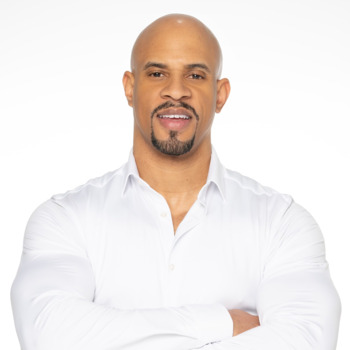 Jeremy Anderson Text Reviews
I had Jeremy speak to all 1,400 of my staff members. He is so inspirational, and there wasn't a dry eye in the room. Everyone wants him to come back and speak... that's how good he is!
Dr. Lily DeBlieux
I myself as the CEO have given many talks and presentations, but after hearing Jeremy today... wow! He was able to really inspire individuals, and empower them to act beyond today.
Nathaniel M. Fields
Mr. Andersons speech was passionate, substantive and had depth. It's really what we needed to take us to the next level. We felt appreciated and needed. He engaged out hearts and minds.
Scott Mosley
We had the pleasure of hearing Jeremy speak at our rally for all 6,000 of our employees. He gave a powerful message that needed to be heard! We were so incredibly grateful that he was able to be here with us, and we hope he will return to do more work with us!
Brenda Ramos
When I think of Jeremy Anderson, I think of "The Real Deal!" Someone that really lives and practices what he preaches.
Gerardo Oudri
I have to say that I was moved by his presentations. His presentation to the staff was amazing. The best way I can describe it is, If I could put all of the needs within our organization, and put them on a plate, he served the Whole Meal! I appreciate him having the gift of sharing his story and applying it to our struggles as an industry. Thank you for coming to Sierra Vista and inspiring our community!
Kristen Hale
Jeremy Anderson came in and touched the soul of my teachers. After his speech one of my male teachers stood in front of the auditorium in tears. He was going to retire but decided to commit for three more years or more!! Jeremy reignited their desire to touch children and he reminded them why they went into teaching. He reawakened the beast within their hearts! Jeremy Anderson was a Phenomenal Motivational Speaker for my Teachers and Staff!
Dr. Jimmy Shaw, Superintendent - Florence City Schools
I have attended district Convocations for 25 years, and Jeremy Anderson's keynote address was the BEST we have ever experienced!! All 2,300 employees were enthralled by his moving words and were motivated by Jeremy to 'speak life into our students' every day! Shortly after his presentation, our city experienced a devastating hurricane. Jeremy took the time to check on us frequently, asked how our students were dealing with it, and even sent us inspirational videos to help us get through the hard times. Jeremy Anderson is an AMAZING Motivational Speaker!
Jenny Angelo
Several times during Jeremy's speech I had goosebumps! It was great that Jeremy was able to communicate a powerful message for all that were in attendance. We would definitely have Jeremy back and I hope our school district brings him back. Would recommend Jeremy Anderson 100%. You will not be disappointed.
Chase Sleesman - South Bend Community School Corporation
I had Jeremy speak about his journey and entrepreneurship for my conference Fruition Lab and he brought so much energy and value! I was grateful he squeezed us in after he had already had a few other speaking gigs on the same day. He was so great to work with. So professional. I can't recommend him enough as a motivational speaker.
Jeff Tatarchuk - Fruition Lab