Hamish Brewer
The Relentless Principal - Disrupting the World of Education - TEDx Speaker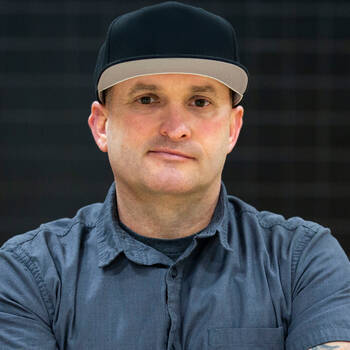 Hamish Brewer Text Reviews
Hamish Brewer is a dynamic speaker, motivator, and leader. He brought an energy to the Digital Learning Conference that will forever be difficult to emulate. The buzz that was created when we announced him as our speaker was continued throughout the course of the day and on social media far into the evening after his speech. We couldn't have been happier with his message, passion, and determination to inspire people to be the best for the students and communities that they work with.
Michael Urbanik Coordinator Instructional Technology - Gwinnett County Public Schools Instructional Support Center
Our event with Hamish was phenomenal. He was the most down to earth keynote that we have had. We appreciate his willingness to be super involved throughout the conference experience. We appreciate the assistance from Premiere with booking him.
April Briscoe - The Advancing Improvement in Education Conference (AIE)
High Energy, Great Message, Powerful Impact That's what Hamish brought to our 2018 Leadership Conference! District leadership, School leadership & teams are still raving about him! One of the best speakers we've had. He has inspired us to be more and do more! Big Impact! "
Anne Arundel Public Schools, MD
Our experience with Hamish was nothing short of phenomenal! Hamish shares his living, breathing experiences in the present. He is a practitioner, so what he speaks of is relevant and meaningful. Hamish is in the business of working with students, families, and educators to create opportunity for all, engage with all, and fulfill a commitment to all. He lives his beliefs as an educator, and challenges the norm. If your staff is in need of a reminder as to what their laser focused goal is as an educator, I recommend none other than Hamish Brewer. His thought provoking, engaging and compassionate message is wrapped in a triple shot of adrenaline; topped off with a double espresso! Buckle up, enjoy the ride, and make a difference in the lives of all children as Hamish does!
Dr. Douglas A. Wood, Superintendent - Ball-Chatham CUSD #5
You knocked it out of the park and we don't know how we will ever be able to top your presentation. We appreciate the time you took out of your busy schedule to join us and thank you for sharing your insights and expertise with our attendees. Your willingness to share your time, energy and support is greatly appreciated. It was a pleasure meeting you and again, many thanks for your time and effort.
Sally Smith, Executive Director - Alabama Association of School Boards
Let me say he was the best speaker I have ever heard in my 16 years in education. I have nothing but positive reviews and comments from my schools. He was unbelievable.
Lee Jacobs, Assistant Superintendent - Dothan City Schools
Your support and participation at this year's convention will have a lasting impact on those that we entrust to make a difference in the lives of many children all over the state. I greatly appreciate you taking the time to address the school board members and superintendents.
Gwen J. Hampton, Director of Leadership Development - South Carolina School Boards Association
Very applicable to all levels of education, connected to the audience well, very relatable, real, can talk about real-life experiences that happened within the past 24 hours, and teachers are still talking about him and his message. More than anything we truly appreciated the adjustments in airfare and hotel to make sure we had the opportunity to see him.
Kimberley Walters, Principal - Blair Oaks R-II