Improve Students' Fluency, Vocabulary, & Comprehension with Guided Practice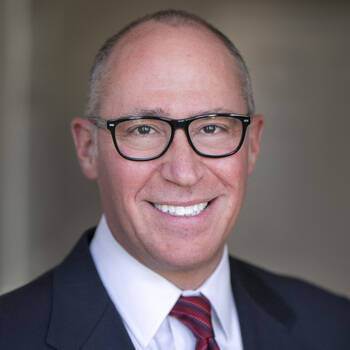 September 27, 2020
Distinguished Principal, TEDx Speaker, Author, and Horace Mann Educator of The Year Recipient
By Laura Robb
"The kids who can't read the grade level text listen to it so they are on the same page as students who can read the text. That's the only way I can have every student experience the required text." This explanation illustrates how a sixth-grade teacher coped with a one-novel per semester curriculum in her classes. None of the teacher's three ELA sections had all students reading on grade level or above. In fact, in this school students in all ELA classes, excluding two gifted and talented classes, were reading from grades one to seven --a range that's similar to many middle schools throughout the country.
Despite the fact that teachers have classroom libraries and students read self-selected books for fifteen minutes each day, students reading three or more years below grade level don't make enough progress in one year to learn from social studies and science textbooks. In fact, these developing readers, often feel discouraged throughout the day because they can't read texts in content subjects and therefore, don't fully participate in discussions.
More than forty years ago in his article, "If They Don't Read Much, How Are They Ever Gonna Get Good?" Richard Allington affirmed my observations and beliefs for developing readers: to improve their fluency and comprehension as well as enlarge their vocabulary and background knowledge, they need to read engaging, authentic materials throughout the day (1977). Middle school is, most likely, the last opportunity teachers have to meet the needs of developing readers and by eighth grade have most students reading on or above grade level.
When ELA and content area classes have books that represent students' interests, cultures, and reading levels, students can read all day, every day. Equally important, as they improve reading skill and successfully participate in class discussions, students develop self-confidence and the perseverance to improve their reading. In addition to volume in reading, developing readers benefit from short, guided practice lessons that can also improve reading skill.
The Why Behind Guided Practice

Guided practice is instructional reading using a poem or a short text, and you facilitate the lessons that can be completed in 15 to 30 minutes. If you're unsure whether students have absorbed information from a series of mini-lessons, you can use guided practice lessons to gain insights into their level of understanding. Moreover, during mini-lessons, you might identify a group of students who require additional practice. By supporting students with guided practice lessons, you strengthen their fluency, word knowledge, writing about reading, increase their background knowledge, and improve their recall and comprehension. How students navigate short texts can inform your instructional decisions, as you can:
Adjust instructional moves by re-teaching a lesson or tweaking students' goals and workload.
Present one or two additional guided practice lessons to provide students with the practice that can improve their reading skill.
Confer with a student to deepen your understanding of his/her work.
Support a student or small groups by asking them to explain their thinking and then think aloud to model your process and gradually release the responsibility to students.
Pair-up students and ask them to support one another as they rethink and redo notebook writing.
By observing students during guided practice lessons, you can target interventions and bring all students to a level of understanding that allows them to experience success during instructional and independent reading.
Scheduling Guided Practice
Guided practice Lessons replace all or part of your instructional reading block over two to three consecutive days. You can reserve one week to present a lesson and use it to assess students, or you can set aside three to four weeks and use the guided practice lessons as interventions that boost students' reading skill. Guided practice does not occur all year long and daily formative assessments provide the data that informs decisions and schedule adjustments. I have developed two types of guided practice lessons for additional reading practice.
Two Types of Guided Practice Lessons That Work
Both types of lessons build vocabulary, recommend short videos to enlarge background knowledge, invite students to reread passages for different purposes, improve fluency, and provide practice with citing text evidence to infer and support a position.
Partner discussion lessons ask you to do more explicit teaching by modeling how to write notebook responses and use context to determine the meaning of words. Pairs collaborate to complete word work, discuss questions, and choose a prompt to write about in their notebooks. These lessons offer students practice in completing authentic reading tasks and rely on partners scaffolding tasks for each other.
Shared reading lessons invite students to solve reading challenges independently (Burkins and Yaris, 2018). These lessons ask you to select texts that allow students to solve reading problems independently. As you pose questions about a short text, you'll drive students into the text to infer, explore themes, compare and contrast, and enlarge their vocabulary. It's the students doing the work that develops stamina and confidence to enjoy independent reading at school and home..
After students have completed a guided practice lesson, take some time to reflect on your observations and students' questions and responses. Doing this can help you decide if all or some students need extra practice with a specific strategy or if you can move on to building students' reading skill and independence.
Learn More About Guided Practice Lessons
Corwin Literacy has published a book by Laura Robb and David Harrison, Guided Practice For Reading Growth (2020) that includes partner discussion and shared reading lessons for twelve poems and twelve short texts written by David Harrison, so children practice using beautifully written and engaging texts. Below is a shared reading lesson from the book that you can use with your students.
Rain, She by David Harrison
Rain, she watch jungle.
Oh yes!
Rain, she slyly lift each leaf,
tiptoe down trunk of kapok tree,
make sure jungle nice and green.
2Rain, she know when jungle thirsty.
She bang on forest roof,
plunk rubber trees on their heads.
"Wake up! Drink!" she say.
Oh yes!
Rain, she plump up blossoms,
make them nice and fancy for thirsty bees.
3Rain, she not forget animals!
Oh no!
She drench fur of sullen jaguar,
make parrots shake their feathers,
drip off howler monkey's nose.
Oh yes!
4And rain, she never never forget
to pelt and rattle thatch huts,
drip through cracks, trickle down walls.
"Ha!" she say. "This I do for you.
I keep river full, she happy,
I pour your squash a drink."
5Then rain, she say,
"This I do for me.
I keep jungle nice and green.
Oh yes!"
SHARED READING OF THE POEM, "RAIN, SHE"
Purpose: To understand how personification and onomatopoeia enhance meaning and support visualizing
Lesson Materials:
Copies for all students of "Rain, She"
Students file folders for storing short texts; 4 x 6 index card for covering stanzas
An anchor chart headed with the title of the poem. Post both sentences on anchor chart: Personification is giving non-living things the ability to do what humans can do. David Harrison personifies rain by making it a woman who cares for the rainforest.
Make two columns on the anchor chart. Title left side "Strong Rain Verbs" and title right side, "What You Picture."
Video: "Rain Forests 101/National Geographic" (3:41) or another video about rain forests that's appropriate for your students. https://youtu.be/3vijLre760w >
Part 1. Pre-Teach
Day 1: about 15-20 minutes
Watch video "Rainforests 101/National Geographic." (You might want to watch this twice). Invite students to share all they remember. Discuss green canopy and ecosystems.
Show photo of the Kapok tree. Have students look at the person compared to the size of the tree. Connect Kapok tree to the green canopy and point out the animals that live in the tree and connect that to ecosystems. A great online resource can be found here: https://www.rainforest-alliance.org/species/kapok-tree
Ask students to head a page in their notebooks and explain what the "green canopy" of the rainforest is and why it's important. Circulate and help students by answering questions or helping them frame responses.
Day 2: about 15-20 minutes
read silently.
Read the sentences on the anchor chart for personification and personifies. Model how you use clues to figure out the meaning of personification. Invite students to explain personifies using sentence clues.
Have students turn-and-talk and discuss the meaning of these words using context clues.
Reread the title and ask students to explain how David Harrison personifies rain.
Reread the poem and ask students to turn-and-talk and find other examples of rain being personified as a woman.
Introduce onomatopoeia and explain that words that also create sounds are onomatopoeic words. As an example point to bang in the second stanza. Ask, What kind of noise does bang make?
Have students find other words in the poem that also make sounds: plunk, shake, pelt, rattle
Part 2. Start the Shared Reading Lesson
Day 3: about 20-30 minutes
Have students retrieve a copy of "Rain, She" and the 4 x 6 index card from their folders. Students use their index cards to cover up stanzas 3 to 5.
Read stanzas 1 and 2 out loud. As students follow silently, have them spot words that show what "she" does.
Have students turn-and-talk, share words, and write these on the left side of the anchor chart.
First and Second Stanzas
How do these words (watch, tiptoe, bang, plunk, drink, plump up) help you see and hear what she is doing? Tell students these are strong verbs because they paint pictures and create sounds.
What other words in stanzas one and two relate to water?
Read aloud the rest of the poem and students read silently.
Third Stanza
What does she do for animals? What words show you this?
Which words are onomatopoeic words?
Fourth Stanza
How are people in the huts feeling about "rain, she?" Use details from the poem to support you ideas.
How does the rain help people?
Last Stanza
Why does rain say, "This I do for me." How do these words link to what the poet is saying about rain in the rainforest?
What affect does repeating "oh yes!" have on your feelings? On the poem's meaning?
Reread each stanza. Turn-and talk about the picture you see in your mind and the words and phrases that helped create these. Share with the class.
Wrap-Up: Notice what students did well: finding strong verbs, onomatopoeic words, visualizing, and offering text details.
Day 4: about 15 minutes
Part 3. Teacher Assesses
Complete the Anchor Chart
Additions and adjustments come from the students. You'll want to see what they can add. If they add little, then students are telling you they require more practice. You can redo part of the lesson or move on and slow down, checking frequently for understanding.
Have students retrieve the poem from their folders.
Ask students to choral read as you reread the poem.
Review anchor chart notes and have students make adjustments and add ideas.
Review green canopy, kapok tree, personification, and personify and connect to the poem.
Reflect and Intervene: On sticky notes, jot the names of students who didn't participate or contribute ideas for the anchor chart. Work with individuals or a small group. Return to modeling and then invite students to respond.
References
Allington, Richard L. (1977). "If they don't read much, how are they ever gonna get good?"Journal of Adult and Adolescent Literacy. 21(1), 57-61.
Burkins, Jan and Kim Yaris (2018). Who's doing the work? How to say less so readers can do more. Portland, ME: Stenhouse.
Miller, Donalyn and Colby Sharp (2018). Game changer! Book access for all kids. New York, NY: Scholastic.
Robb, Laura (2020). Guided Practice for Reading Growth, Thousand Oaks, CA: Corwin Literacy.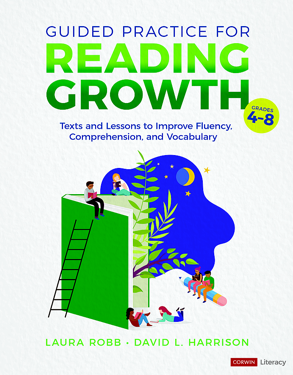 The post Improve Students' Fluency, Vocabulary, & Comprehension with Guided Practice appeared first on The Robb Review Blog.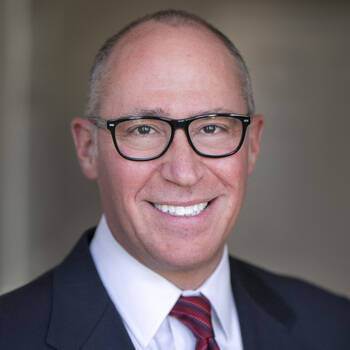 Want Evan Robb for your next event?
Find out more information, including fees and availability.
Find Out More
Keep Reading