Dinesh D'Souza
Director/Producer: 2016 Obama's America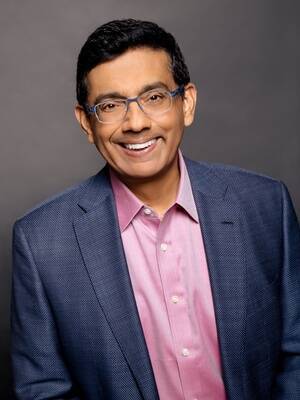 Dinesh D'Souza
Director/Producer: 2016 Obama's America
Travels From
Rancho Santa Fe, CA, US
About Dinesh D'Souza
Dinesh D'Souza is a bestselling author and award-winning filmmaker. His political documentaries "2016: Obama's America" and "America: Imagine a World Without Her" are among the highest-grossing political films of all time. An immigrant who grew up in Mumbai, India, Dinesh came to the United States in 1978 as an exchange student. He attended Dartmouth College, graduating Phi Beta Kappa. He was a domestic policy analyst at the Reagan White House, and also a scholar at think tanks such as the ...
Dinesh D'Souza is the type of intellectual who has callouses on his hands, he knows what is worth believing and he has an uncanny gift of communicating the 'why' of those beliefs in a way that disarms skeptics and makes sense to everyday people.
Johnnie Moore, Vice President - Liberty University
I've seen and heard Dinesh D'Souza in a number of venues, as a speaker--and twice as a debater--for my own Socrates in the City speaker series in Manhattan. There is no one whose knowledge and presentation of the facts is better.
Eric Metaxas - New York Times bestselling author of Bonhoeffer: Pastor, Martyr, Prophet, Spy
2 speaker reviews for Dinesh D'Souza View All