Dennis Conner
Four-Time Winner of the America's Cup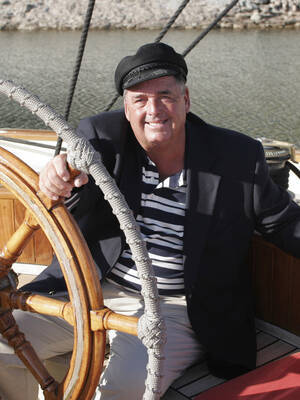 Dennis Conner Bio
Dennis Conner, also know as "Mr. America's Cup" is the world's most successful Americas Cup Skipper, a four timewin ner of the America's Cup. Winner of more than 100 America's Cup Trial races, Conner raced in and won the America's Cup in 1974, 1980, 1987 and 1988. He also made it to the America's Cup finals in 1983 and 1995. Conner is actively involved in the planning, organizing, fund-raising, design, staffing and public relations of his America's Cup Campaigns. No skipper has been more successful in the modern America's Cup in putting together his own campaigns. In his most recent challenge in 2003 he led his team thorough an unprecedented Ninth America's Cup campaign. He challenged for America's Cup 2003 through the prestigious New York Yacht Club.
Though the Cup is the symbol of his victories, Conner has captured many other
awards. He has won world championships in boats from 11-feet to 80-feet. Having
represented the United States in international events since 1963, he has been
selected United States Yachtsman of the Year four times and San Diego Yachtsman
of the Year seven times.Conner has won two Star World Championships, two Etchells World Championships, two Congressional Cups and four Southern Ocean Racing
Conference (SORC) victories. In Kiel, West Germany, in 1977, he established a
Star class record that has never been equaled, scoring five consecutive first place
finishes against 89 boats. Dennis Conner regards this record in particular as one of
his greatest sailing accomplishments.
In the 1976 Olympic Games, Conner won a bronze medal for the United States in
the Tempest class. He has also been twice a member of the U.S. Admiral's Cup
Team and participated in the historic 1979 Fastnet Race that met with disaster in a
Force 10 storm.
Conner's most recent accolades include being inducted as a member of the
inaugural class of the Americas Cup Hall Of Fame and the US National Sailing Hall
of Fame in 2011. In 2012 US Sailing named him America's Greatest Sailor based on public vote.
Conner has led two entries in the Whitbread Round The World Race, now called the Volvo Ocean race, in 1993-94 with Winston and in 1997-98 with Toshiba. Prior to the Whitbread In 1993, Conner set a new Trans-Atlantic record with Winston.. Conner also won the Australian National Etchells-22 Championship that same year.
As an author and publisher, Conner has recounted the motivation, teamwork and
commitment to winning on and off the water in his books Learn to Sail, No Excuse
To Lose, Comeback, The Art of Winning, The Official Record of Stars & Stripes 1987,
The Official Record of Stars & Stripes 1988, The Official Record of Stars & Stripes
1992, 1995,2003,Sail Like a Champion and Life's Wining Tips. He is also the co-author of The America's Cup: The History of Sailing's Greatest Competition in the Twentieth
Century, published in July 1998.
In 1987, Conner combined his passion for sailing with his talent for business by
starting Dennis Conner Sports, Inc. Over the years, he has worked with hundreds
of major corporate clients on product endorsements, sailing events, personal appearances and sponsorships.
While serving as Commodore of the San Diego Yacht Club, Conner formed the
successful Stars & Stripes Challenge in 1984 and also served on the original board
of the Sail America Foundation. He was responsible for the tactical game-plan
which led to his victory in the 1987 America's Cup returning the America's Cup
back to the United States.
His most recent endeavors, or more a passion, was the restoration of a 1925 "Q"
class boat Cotton Blossom II which he raced on as a very young man. He spent 17
painstaking months on the restoration. The boat is a jewel and he competed in the
Mediterranean Classic Yacht series winning his class in all of the regattas sailed, as well
as winning the Concourse de Elegance, Judged by Prince Albert of Monaco for the most beautiful boat at Monaco Race week. He has also recently finished a restoration of the 1910 Crowninshield Schooner "Fame" which he has successfully raced winning the 2011 McNish trophyand the 2012 San Diego Yesteryear regatta. Conner again won the McNish trophy in 2016 aboard his new passion, a 48 foot wood classic named "Splendor". Conner still races competitively in San Diego and internationally, most recently competing in the 6 meter World Championships in Vancouver BC.
Conner grew up in San Diego, raised near the San Diego Yacht Club which he
joined at age 11. He has been a member of the SDYC for over fifty years and has
served on the SDYC Board of Directors for nine years. He studied business at San
Diego State University and lives with his wife Daintry in San Diego, California.