David Nour
Enterprise Growth Strategist and Global Thought Leader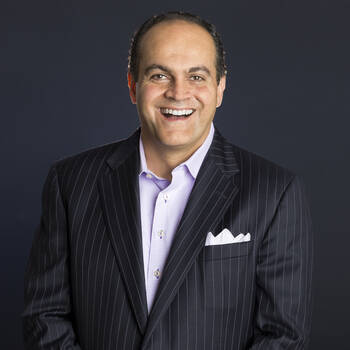 David Nour Bio
Born to middle-class educators in Iran, David learned at a very young age the incredible power and promise of identifying, building, and nurturing strategic relationships. As he wrote in his first book, Relationship Economics - Transform Your Most Valuable Business Contacts Into Personal and Professional Success (Wiley, 2012), he certainty didn't get it then, but walking through the bazaars of Iran at a young age with his father on Friday errands, he understands now that his dad got things done through relationships. Whether they needed a plumber at the house that afternoon or access to an influential politician, the rest of the world is dramatically more proactive with its portfolio of relationships.
David arrived in the U.S. as a teenager in 1981 with a suitcase, $100 to his name and no fluency in English. He lived with an aunt and uncle he had never met and grew up in the suburbs of Atlanta. He earned his Eagle Scout, graduated from high school and enrolled in an undergraduate engineering program, before graduating from Georgia State University with a business degree. His early career in sales and sales management at various technology firms reinforced the value of internal and external relationships.
Later after working for a global consultancy and earning his postgraduate degree from Emory University's Goizueta Business School, David became President of an early-stage venture. While there he again leveraged more than his educational foundation and professional pedigree, but his portfolio of relationships to identify market opportunities, attract and retain exceptional talent, raise capital, and gain his clients' confidence. Many of these results he shares today with his global audiences.
During his time as a senior leadership advisor to portfolio companies of a private equity firm, David saw dramatically diverse business models, leadership styles,
and a broad spectrum of relationship development best and worst practices. From that experience, he dedicated himself to becoming a student of business relationships and what made world-class individual contributors, managers, and leaders excel.
After hundreds of speeches and being asked countless times for a book, David hunkered down to write his first, Relationship Economics, back in 2008. To date, more than 50,000 copies of that first book have been purchased or gifted by individuals or their organizations, and it remains David's iconic work. In it, he outlined his Relationship Currency Roadmap, the sustainable differentiation in Reputation Capital , and the strategic value of one's Professional Net Worth . The goal was then as it is now to elevate his audiences' mindset, help create a roadmap, and provide a toolset to think of relationships as more than transactional networking, and one of truly transformational relationships.
n 2016, he launched the Relationship Economics quiz, amassing a research database of over 20,000 respondents on how individuals think about their business relationships, further quantifying the six relationship-development archetypes, from Start to Star across 28 different industries, from manufacturing to professional services. Continuing on that journey to better understand how people think, feel, and behave around their business relationships, this time with a particular emphasis on collaboration and reinvention of business and revenue models, he launched the Co-Create quiz, Canvas, and Workbook.
As an internationally renowned thought leader and business expert, David annually delivers 50 global keynotes on business relationships, social and mobile disruptive technologies, and adaptive innovation at corporate meetings, leading industry association conferences, and academic forums. He is an adjunct professor at the Goizueta Business School at Emory University and a guest lecturer at Georgia Tech's College of Management. David serves as the lead independent director on the board of introNetworks, a privately held intelligent community technology firm based in Santa Barbara, California.
David's unique perspective and independent insights on business relationships as well as social and mobile innovation have been featured in a variety of prominent blogs and publications including The Wall Street Journal, The New York Times, Fast Company, Knowledge@Wharton, Associations Now, Huffington Post Business, Medium, Entrepreneur and Success magazine.