Crystle Stewart
Miss USA 2008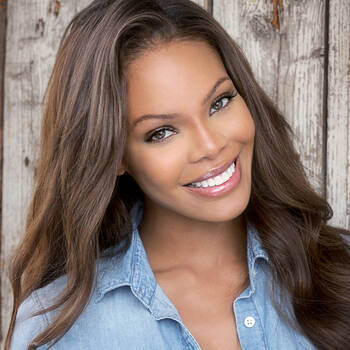 Crystle Stewart Bio
Crystle Stewart is not just a pretty face but a woman who prides herself on setting goals and achieving them. Her most recent aspiration has been to become an actress. Her goal came to past as she now stars in the new Tyler Perry sitcom "For Better or Worse" on TBS. She plays Leslie, an independent, charming real estate agent known as the peacemaker amongst her friends. For Better or Worse is based on Tyler Perry's "Why Did I Get Married?" films.
In 2003 Crystle set her sights on becoming Miss USA. In 2008 she ultimately won the coveted title. As a native from Missouri City, Texas, Crystle's win was not merely a stroke of luck, but a testimony to dedication and years of hard work. After placing in runner-up positions several times, Crystle won the title of Miss Texas USA on her fifth attempt. She remembers a line from the Bible her mother would recite, "The race is not given to the swift or the strong, but to the one who endures to the end." Crystle has shown unwavering persistence in achieving her goals.
As Miss USA, Crystle was a spokesperson for breast and ovarian cancer education, research and legislation, a platform that is close to her heart. Crystle herself, found a lump in her breast that was eventually diagnosed as benign. Her experience is a testament to the importance of early prevention, which until this day has motivated her to continue as an advocate for several breast cancer organizations. She also donates her time to Best Buddies and other organizations that assists individuals who have learning disabilities.
Stewart is also a winner of another kind. She excelled in sports and won a silver medal in the 4x400 meter relay during the 1994 Junior Olympics.
The University of Houston graduate is a fourth generation educator and teacher. She is also the founder of her own company, Inside/Out, which she uses as a platform for public speaking appearances and character development lessons.
"With Inside/Out, I teach young women that beauty and intelligence are not mutually exclusive," says Crystle.
Crystle's love for beauty as well as her experience in the modeling and pageant industry, have enabled her to dramatically improve her natural expertise in makeup, hair styling, and image consulting. She plans to put these talents to use by opening her own "Etiquette school", where young women will learn the importance of a positive self image and character education. In turn equipping them with necessary tools and resources to successfully defy life's trials and tribulations.