Colette Carlson
Hall of Fame keynote speaker and human behavior expert who transforms relationships through the power of connected conversation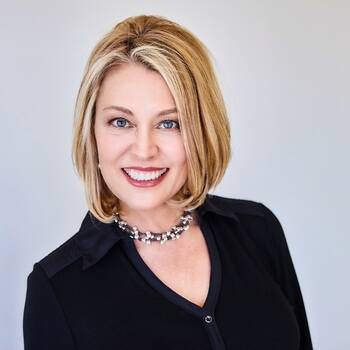 Colette Carlson Text Reviews
"After Colette's keynote at the PMA Foundation Women's Fresh Perspective's Conference, we knew we had to bring her back for our Executive Leadership Symposium. As expected, she connected as easily with the audience on gender intelligence and make up of two-thirds male executives as she had discussing work-life issues with the women prior. Once again, her presentation was executed professionally, yet delivered with a sense of humor. We heard nothing but positive comments about this interactive session with solid takeaways."
M.P. PMA Senior VP/PMA Foundation Executive Director
"Wow!! We have received nothing but fabulous raves about you and your presentation. Thank you for sharing your strategies and humor with us!"
S.W., BAAP, LB Team - Boeing
"On behalf of myself and the 3,500 attendees, I want to say "thank you". Having you as the opening keynoter and Suze Orman the luncheon speaker for the sell-out crowd, was a wise decision and proved to be our best conference in the 21 year history of CCWC."
M.S., Conference Coordinator, - Central CA Women's Conference
"Colette was spot on and perfect for our audience: fun, informative and timely. She focused on today's landscape and the skills we need to survive and thrive."
P.K., Office Resource Manager - Hoffmann-La Roche, Inc.
"Your presentation was terrific! It was very informative and yet "playful" at the same time; a perfect fit for our global audience. Judging from the meeting evaluation forms, your presentation was a definite "hit", and in fact the highest rated presentation of the day!"
K.B., Manager, Human Resources - Cisco Systems, Inc.
"Thank you for providing your Sincere Selling program for our team of 200 AFLAC agents. You were stellar! You did a great job reinforcing what we teach in-house with a fresh voice and perspective.. You were very motivating and dynamic - a perfect way to end the event on a high note. Thank you for being so funny and entertaining while providing great content that sticks."
J.G., State Training Coordinator - AFLAC
"Colette's enthusiasm, humor and very practical advice were a huge hit with our group of women General Counsel and senior-level in-house counsel. Colette fully committed to our program- spending time with our attendees and other speakers to gain a deep understanding of our challenges and goals. She made sincere personal connections-- as a result, her session fit perfectly within our program, and our attendees left energized and better prepared to address the obstacles that impeded their success and the success of the organizations they serve."
K.M., Chair, - National Assn. of Women Lawyers General Counsel Institute
"Every one of our program goals were not only met, but exceeded due to your up-to-date content and humorous delivery style. We've heard from many attendees that is was the best off-sites to date!"
S.B., Sales Training KI Franchise - Onyx Pharmaceuticals, Inc.
"Your interactive approach to understanding the importance of effective communication between men and women for successful selling was a home run! You engaged the audience through stories and examples they can relate to and handled questions on the run that showed everyone was dialed in."
J.E., Marketing Manager - Infinity from Marvin
"You did a fabulous job, and we are hearing amazing compliments. You received 4.85 out of 5 on our evaluations, and with over 1000 attendees, WOW!"
L.P., Manager, Partnerships & Strategic Events - Sharp Healthcare
"Attendees have stated that you are one of the best speakers we have ever brought to our campus. With some of the high profile speakers we have engaged in recent years, that is quite a compliment! You delivered a powerful message in a humorous way, and as we all know, humor is something people gravitate towards. You also have the ability to craft your message so that it is easily understood, while keeping it fun, interesting, and interactive!"
L.F., Chair, University Staff Development Committee - California State University, Chico
"Your ability to use humorous examples while providing solid content on how to deal with difficult conversations was refreshing. By encouraging attendees to leverage business opportunities, you left everyone with new skills and a renewed excitement about their positions. It was extremely well received with both our local and international teams that flew in for the training."
B.N., Event Coordinator-Offsite - Microsoft
"From the moment you stepped on stage at our annual sales meeting, you grabbed the audience's attention and kept it the entire time. You took the time to learn our business, even down to common language within the organization. I knew you were a hit right away, but was pleased to see the standing ovation from the crowd!"
K.B., Director of Training & Merchandising - Etcetera
"Your presentation at our Women's Market Forums was very well received and aligned perfectly with the objectives of the meetings. I was also impressed with how well you prepared for your presentation, evident by the time you spent fact-finding and researching. Many of our managers who were in attendance asked for your contact information to follow-up with you about some of their local General Office meetings. We look forward to continuing to work with you."
J.C., Vice President - New York Life
"I can't tell you how grateful I am to you for closing our conference with a bang! From an event planner perspective- you couldn't have been easier to work with.. I think you were able to relate to every woman in the audience - how special is that? Rating the keynotes on a 1-5 (5 being the best), you received a 10!"
C.S., Director of Programs and Events - Worcester Women's Conference
"Your interactive program resonated with all the ages and demographics of the women in attendance. We loved your energy, and your keynote was a wonderful complement to Marianne Williamson and Dr. Jean Houston's keynotes!"
P.T., Conference Coordinator - 10th Annual Women's Journey Conference Productions
"Your general session was sharp, timely, well-thought out, as well as entertaining. The Education Department had no doubts that you would be great on the subject, but we were not prepared for your enthusiasm and energy. You had the audience on the edge of their seats, laughing, nodding, and participating all the way through. Once again, the knowledge, information and enthusiasm you shared had an impact on our Delegates - you left them begging for more!"
J.W. Associate Director of Education - International Institute of Municipal Clerks
"After sitting through four days of meetings, closing our Annual Sales Convention with Colette's hilarious keynote left our attendees excited, enthusiastic, and full of energy. Not only did she provide our Account Executives with practical tools to create a more balanced life, but she also customized a prop piece for our attendees that "brought down the house". I have personally never left a sales meeting feeling more energetic and refreshed."
R.S., Projects and Events Manager - American Home Shield a ServiceMaster Company
"More than 700 women attended our Speaking of Women's Health Conference, and your keynote received rave reviews! Many comments from women said that they were going to take your advice and take back their lives. I would love to share firsthand what a great decision we made in choosing you as our Keynote Speaker."
B.O., Chair, Special Events Coordinator - Lakeshore Public Television and Radio
"Your keynotes address to the Raytheon Women's Network exceed our expectations. It was clearly the highlight of our conference. With the help of your presentation the women in our organization are prepared to use the skills learned to invigorate their careers."
S.E., Chair Keynotes Committee - Raytheon Company
"The PMA Foundation recently held our inaugural Women's Fresh Perspective Conference and, Colette, as our lead-off speaker, was an extraordinary way to start. As funny as she was, she knows how to weave her human behavior expertise with the humor to give practical tactics to help attendees learn to "speak their truth." Women of all demographics and segments of the produce supply chain are still raving about Colette's presentation, and I believe it would resonate with any audience."
M.P., Executive Director - PMA Foundation for Industry Talent
"Thank you for bringing your wit, charm, practical insights and overall tremendous inspiration to the 2012 Women's Leadership Conference. Your presentation was instrumental to the event's success."
J.J.M., Chairman of the Board/Chief Executive Officer - MGM Resorts Internationaal
"Colette Carlson was the most entertaining speaker our community has had in years! Not only did she teach our team new and fresh techniques, but we laughed all day long!"
K.A., Procter & Gamble - Beauty