Orel Hershiser
World Series Champion Baseball Pitcher / ESPN Analyst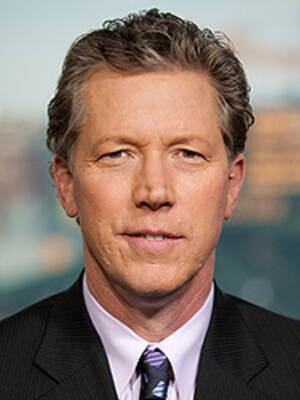 Orel Hershiser Bio
"I've watched Orel Hershiser from the press box since he came up to the majors in 1984. From a distance he seems too good to be true. Now that he's joined us (ESPN) as a broadcaster, I'm discovering that he's not. Orel is the real thing." - Sports Commentator Chris Berman
Orel Hershiser, also known as "Bull Dog" - an endeared nickname given him by Dodgers manager, Tommy Lasorda -- is much more than one of major league baseball's most well-known and respected retired pitchers. He has transcended beyond the sport to become a true American hero overcoming obstacles and persevering onward to success. Not just success in baseball or broadcasting but in life. A best selling author of two books, Out of the Blue (1989) and Between the Lines (2002), and popular spokesperson, Orel Hershiser embodies the American spirit.
Most well-known for his legendary 1988 season, Hershiser pitched the Dodgers to a World Series championship, broke records and was named MVP and Sportsman of the Year among numerous other awards.
After spending four years in the minor leagues, Orel Hershiser was called to the majors in September 1983. It was then that he earned his first save in the game in which the Los Angeles Dodgers clinched the 1983 National League Western Division title. Hershiser was moved to the starting rotation early in the '84 season and finished 11-8 with two saves. Finishing third in Rookie of the Year balloting, Hershiser was on this way to a stellar career.
The pinnacle came in 1988 when he led the Dodgers to a World Series Championship. Hershiser had a phenomenal year earning top accolades including MVP of both the National League Championship Series and the World Series. Scoreless innings became Orel Hershiser's specialty in 1988 as he broke Don Drysdale's longstanding record with a phenomenal 59 consecutive scoreless shutout innings. Drysdale's previous record of 58 was thought to be one of the remaining unattainable milestones in baseball, until Hershiser succeeded in rewriting the record books. Hershiser almost did not pitch in the 10th inning, in deference to Drysdale, but was convinced by the Hall of Famer to take the mound and try to break the record. Orel's performance in 1988 earned him a spot on the All-Star team and resulted in his being named the National League Cy Young Award winner.
The 1990 season, however, brought a tremendous challenge for Hershiser. Only 4 games into the season, he was put on the disabled list for the remainder of the year due to a massive shoulder injury that required major surgery and promised an uncertain future. Many did not believe he would ever return. No one ever had. Hershiser, however, was not like the others. With diligent rehabilitation and determination, the Bull Dog lived up to his nickname and made a phenomenal comeback by June 1991.
In his book, Between The Lines: 9 Principals to Live By, Hershiser reflects: "On May 29, 1991, two days before America's official Memorial Day, I walked to the mound in Dodger Stadium for what would be a memorable day for me. Just over one year after the surgery, I did what no one had ever done: returned to the big leagues after major shoulder reconstruction. Even long-time beat reporters would call it 'a miracle.' I had pictured this day during endless hours of rehab and now it was really happening. It was an awesome moment. After quickly gathering my composure, I wound up and threw my first warm-up pitch. I could hear the pop of my fastball burying itself in the soft leather of Mike Scioscia's mitt. The sound was loud and wonderfully familiar."
Hershiser, however, was not content just to be back in the Big Leagues. In 1995, Hershiser joined the Cleveland Indians where he pitched to a 16-6 record, catapulting the Indians into the playoffs and ultimately led them to the World Series. A feat the Indians had not seen since 1954. He was named MVP of the American League Championship Series, in which he had two victories and an ERA of 1.29.
After winning a total of 29 games over the next two seasons with the Indians and another World Series appearace in 1997, he was 11-10 with the San Francisco Giants in 1998 and 13-12 with the New York Mets in 1999. Hershiser then rejoined the Dodgers for a brief stint in 2000 before retiring from America's game.
Despite records he posted in his glory days with the Dodgers, Hershiser is also recognized and honored for his tenacity, leadership and shear will. With a career 204 wins, 106 of which came after a surgery that could have ended his career, Hershiser remains a role model in today's MLB.
In 2002, after serving as color analyst for ESPN, Orel signed on with the Texas Rangers as a pitching coach and Executive Director. In February 2006, Hershiser returned to ESPN as a baseball analyst for their game coverage and Baseball Tonight. "Orel is bringing his unique legacy and considerable charisma to the national stage," said Texas Rangers president Jeff Cogen. "He has a special ability to evaluate and explain a difficult part of the game--pitching. His passion for the game is contagious and baseball fans will definitely benefit from his insights and commentary."
Hershiser remains a fan favorite and as one of Baseball's most memorable faces he is still recognized as "The Bulldog" everywhere he goes.